Debate - World footy rankings 2008 - IC08 placings
Monday, January 05 2009 @ 07:56 am ACDT
Contributed by: Brett Northey
Views: 4,232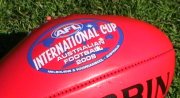 In our continuing series of debates towards creating a defacto World Ranking we now ask the question whether the 2008 International Cup finishing order was a fair assessment of the countries that competed and thus whether they should be used as the initial basis for our World Rankings.

The obvious starting position for the system is the 2008 International Cup results, along with Australia on top (did not compete due to its obvious superiority at this stage of the game's development):


1. Australia
2. Papua New Guinea
3. New Zealand
4. South Africa
5. Ireland
6. Nauru
7. Canada
8. USA
9. Japan
10. Great Britain
11. Samoa
12. Denmark
13. Sweden
14. Peace Team
15. Finland
16. China
17. India
Each team played 5 matches of 18-per-side over 10 days, with the tournament using seedings based primarily on the 2005 Cup results. Any other 2008 internationals will also be used in our rankings, but firstly were the IC08 positions a true reflection? Were any teams placed higher or lower than they should have? And if anyone has a strong objection to Australia being ranked one, or included at all, speak now!
The results of IC08 matches can be seen in 2008 Australian Football International Cup - Results.
This author believes that Finland was somewhat unlucky to finish below the Peace Team, in that the Icebreakers appeared to play the better footy earlier in the tournament, but succumbed to illness, injury and smaller player numbers. However the Finns were so comprehensively beaten that the result should be respected.
Great Britain and Denmark probably showed enough to feature a little higher too. Ireland were desperately unlucky to lose their 3rd/4th playoff to South Africa, but then the Lions did have a lot more shots on goal than the Irish Warriors. Sixth was probably fair for Nauru but the way they were playing at the end, all teams would've been under threat.
So there are a few possible adjustments to the ladder, but at the end of the day rankings should be based on on-field results and finishing positions wherever possible, so it would probably need a strong argument or results of other matches to vary from the IC08 final order.