Thunder to rumble across the land
Saturday, January 17 2009 @ 12:15 pm ACDT
Contributed by: Brett Northey
Views: 3,365

With the 2009 introduction of a Northern Territory representative team into AFL Queensland's top league, the Velocity Sports Cup, the participating clubs will be playing matches at venues right across the state (QLD) and territory (NT). The NT Thunder (appropriately named after the storms that accompany the wet season) open their campaign on Saturday 4th April at 7pm with a home game in Darwin at TIO Stadium against 2008 premiers Southport. That will be the first of 5 matches at that venue in the minor round, but they will also play 4 home games around 1300 km south, in Alice Springs, right in the heart of the Outback. With the squad split between the two locations, surely their alternating travel must be the world's longest distance for a home game? Such flexibility is something international clubs will appreciate.
The pride of the Top End will of course play away games in Queensland's two biggest population centres, Brisbane and the Gold Coast (around 2000 / 2800 km away from Alice / Darwin), but their journies do not end there. The demanding travel schedule also includes trips to Townsville and Cairns, both in Queensland's north (see map below). All in all the Thunder are set for a tough initiation into Queensland's league, with the players likely to rack up more kilometres than any other Australian footy team. The possible exceptions are Western Australia's two AFL sides, Fremantle and West Coast, but even they will only travel 10 times in a 22 round season, compared with 13 for the NT side (given 4 home games are in Alice).
It also continues the growth of activity for the game in Queensland. Besides the introduction of the NT side and the main league playing games across regional centres, there's also the fast improving standard of their top league, a likely lift in form from the Brisbane Lions in the AFL, growing junior numbers and the first season of the Gold Coast Football Club (starting in the TAC Cup Under 18s, aiming to progress to the AFL in 2011). Add to all that the work with the game's number two country in Papua New Guinea and the commencement of AFL Oceania, there's no doubt that Queensland has become a centre of Aussie Rules activity. One exception is the demise of the Zillmere Eagles, which could have implications for PNG scholarship players - more on that if we can get further details.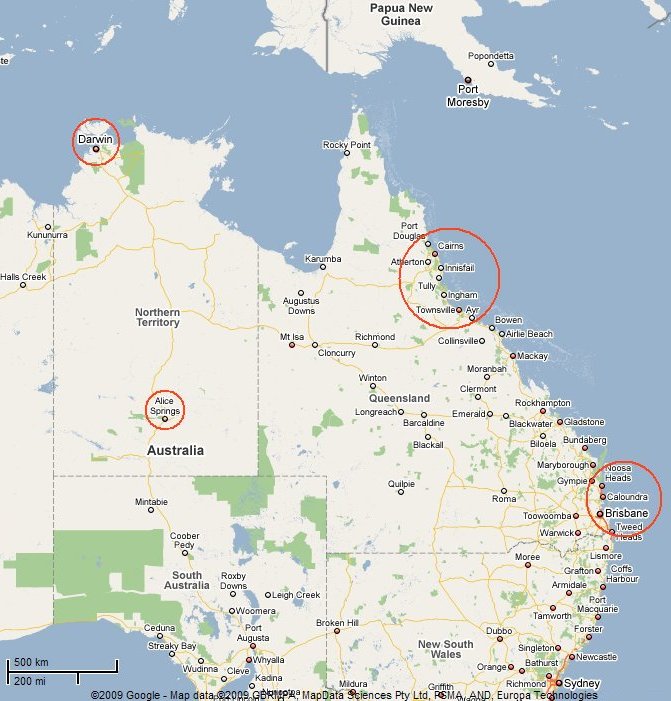 The NT Thunder will play matches in 7 major centres in 2009 - 2 in the NT, 2 in northern Queensland, and 3 in south east Queensland (Maroochydore, Brisbane and the Gold Coast).