Wear your footy jumper to the cricket
Thursday, January 22 2009 @ 10:52 pm ACDT
Contributed by: Graeme Carey
Views: 9,800

During the off-season, as has been pointed out by numerous scribes the AFL clubs love to tie up with visiting celebrities, sports or others, for photo-ops thereby garnering some useful publicity. However, living in Asia, and being an inveterate televised sports watcher it always strikes me as remarkable the number of chaps one sees in the crowd shots at international cricket and tennis wearing AFL jumpers.
So let's get all us international footballers wearing our club guernseys when we grace international events that have significant television audiences!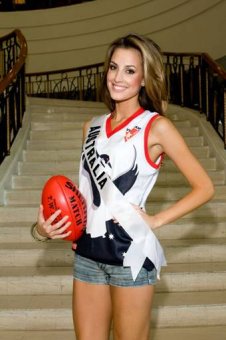 Some of the best football jumpers in the world are those are those designed for the international clubs. The "Best Guernsey" competition organised by the AFL last year as part of the 150th Year Celebration proved that, when despite not being eligible or considered for entry, a number of international jerseys made the final list (they ended up having their own international category).
I have noted that whenever we have football visitors from other clubs to Malaysia, Thailand, Vietnam or wherever, they like to take a jumper back with them as a souvenir and I bet those items are talking points on the training track.
I look forward to the day when watching a ODI from the "G" I can say "Oh look, there is a guy in Lao Elephants jumper" or equivalent.
So, if you are off to a big sporting event, wear your footy jumper and make your club proud.