Opinion: Half sized versions of Australian Football have much to offer
Wednesday, December 30 2009 @ 06:49 am ACDT
Contributed by: Peter Parry
Views: 7,162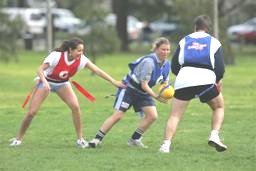 Dozing off watching an agonisingly slow session of Australia v Pakistan Test cricket, one wonders (although some of the best cricket still comes from Test matches) where would cricket be today without the money, participation and new fans brought to the game since the 1970s World Series Cricket revolution championed the one-day match format.
In an increasingly time and space poor world, most team games have their smaller or shortened versions which encourage wider participation and are used to promote those sports in new markets. In comparison Australian Football, the big game on a big field, has been slow to embrace smaller formats.
Other sports do the small version big time
T20 in cricket now looks set to revolutionise the old game, going further in attracting new participants and fans than 1 day cricket a generation ago. Cricket also has a widely played indoor version (primarily recreationally) and has used 8-a-side on small ovals in South-East Asia. Rugby 7's has taken a simpler version of the 15-a-side game of complex rules to dozens of countries beyond its traditional domain. Soccer has several smaller versions – outdoor 5-a-side, indoor 5-a-side, beach soccer…with world cups playable in some of these formats. Basketball a 3 on 3 version, Rugby League has the very popular "touch footy" format as well as a 9's version sometimes used in international development, Gaelic football has an increasingly popular annual 7's tournament, American Football has a non-contact "flag football" version, and the list could go on…
Australian Football is the biggest sport in size terms
In terms of size Australian Football is a big game: 36 big men fly high and roam far and wide on the world's largest football field. The game is appreciated best from the stands, even widescreen TV fails to capture the full scale of play. Whilst the full size version due to its spectacle will always be the elite form of the game, half-size versions like "9-a-side" and "RecFooty" (pictured) are increasingly making their mark. Perhaps the most important aspects of half-size versions are: the relative ease to form a team, the fitting onto smaller grounds and the double ball time for play time that participants get in a high aerobic format. These factors increase the potential to gain and maintain high participation rates.
This article argues that much more could be done to go small for big gains
Apart from Auskick, the AFL has been slow to act
The AFL was a very late entrant into the social sports market with "RecFooty", an 8-a-side non-contact format where only the 3 forwards can score thus increasing teamwork and female participants get 9 points instead of 6 for a goal. Despite relatively little promotion RecFooty has done well in some places like Queensland.
Fortunately for Australian Football participation rates, the AFL did go small for the smallest participants with the successful Auskick format where young children are kept active and nobody sits freezing in a pocket on a large oval bored or wishing the ball would come their way, involves 8-a-side games during half-time at AFL and state league matches.
9's could reinvigorate school footy
But there is a hiatus between Auskick's success and junior football which has ceded ground to other sports at schools. There was no footy available for my children at primary school and although I could have taken my son to a local amateur club, it was far easier and more enjoyable for him to play basketball and soccer with his classmates. Basketball and soccer may have tapped into the "safer" sport mentality in primary schools, but I think their greater advantage was the smaller number of participants and smaller sized playing areas which allows primary schools to form teams of classmates in each year and kids got a lot more of the play, are easier to coach and transport teams to games. They also allowed us parents to socialise within our school community and watch the kids play from the familiarity of the small home school playing field.
Twenty years ago at the time that primary school footy disappeared as an option for our children, a friend was involved in organising a 9-a-side senior football competition in the Adelaide hills in the off-season. It occured to me that 9's made more sense for junior footy in schools and I actually wrote to the AFL about the need for a 9-a-side version in primary schools and got a reply saying it was a reasonable idea but they didn't want to undermine the 18-a-side game.
The problem still exists, when I coached my son's high school footy team virtually all the lads had not played footy at primary school as the game became virtually extinct in South Australian primary schools through the 1990s. Making "9's" the main game in primary school could reintroduce Australian Football in a version where kids play with classmates in short but action filled formats on small primary school fields, and even leave time for the more keen students to go and play for the local amateur club in an 18-a-side game that weekend.
International examples
Overseas where cricket and certainly AFL style ovals are in short supply, 9-a-side versions have found a place. Two competitions stand out:
"Metro footy" in the USAFL allows for teams to play more regularly in their home cities using Soccer/Rugby/American Football pitches, with the 16 or 18-a-side games happening less frequently between cities.
The EU-Cup of Australian Football has grown strongly in a few short years as start up national leagues more easily find the players, resources and manageable logistics to send a team. 15 sides including Andora, Iceland and Italy competed in Croatia this year.
Think small size for a bigger future
The AFL increasingly shows great innovation and organisation in game development, it has rightly clamped down on head high contact and made the game safer albeit somewhat "softer", but in a time and space poor world it could do more with the potential inherent in half-sized versions of the game and it could do more in promotion of RecFooty. Some suggestions:
Several AFL clubs have links with netball clubs and most country towns in southern Australia have strong links between their footy and netball clubs. Mixed netball is also very popular, whilst RecFooty is relatively new. A celebrity RecFooty tournament of AFL players and elite netballers could certainly highlight the sport and perhaps champion state amateur RecFooty teams could be offered the chance to compete or be curtain-raiser games with the elite.
Full contact 9's could be promoted by AFL clubs in a lightening carnival. This may do more for promotion than the pre-season cup. It would certainly promote 9's as a valid form of the game for schools and for country towns in danger of losing their football club when failing to field an 18-a-side team.
9's competitions as curtain-raisers to full sized games could help many clubs, metropolitan as well as country. Clubs with surplus players give them a competitive game, clubs struggling for survival at least get to compete.
9's would help with start up clubs in "expansion" states of Qld and NSW.
Move the International Cup from 3 yearly to a 4 yearly interval and add a 9's International Cup as a 4 yearly tournament spaced 2 years from the full sized IC's. Many more countries could compete. The logistics of sending a squad of 12 to 15 versus a squad of 25 to 30 are far easier.
Also 9's international tournaments played at lightening pace in shorter time formats and fitting two games onto an Oval at a time or using smaller soccer/rugby pitches (perhaps even the new Swan St Stadium in Melbourne) could gain the sort of appeal that Rugby 7's has. They would be easier to stage overseas where full size ovals often don't exist, certainly ones with stadiums.
Finally if ever in the distant future Aussie Rules were to be a Commonwealth Games or even Olympic sport (even as an exhibition sport like Rugby got in with 7's) it would probably only be in a format like 9's.
What is needed is to take these shorter smaller versions of the big game of Australian Football to the next level in boosting participation – in the same way Rugby 7's, T20 cricket, "Touch Footy" Rugby League, and indoor soccer have and are doing for those sports – complementing rather than undermining the full sized formats of those sports.