Nations prepare candidates for World XVIII - part one
Friday, January 15 2010 @ 07:11 am ACDT
Contributed by: Brett Northey
Views: 2,647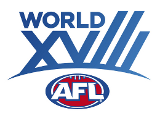 When the Australian Football League announced plans to include a World XVIII in the AFL NAB Under 16 state championships in Western Sydney in 2010, there was genuine excitement that the team would provide an unprecedented pathway for young talent around the world. But clearly the squad was likely to be dominated by Papua New Guinea, South Africa and some Oceanian countries. The recent news that the AFL will now have two international sides - the World 18 and a Pacific Islands side, gives new impetus to those nations with smaller junior programs to put forward their young players.
It's likely that the nation providing the most to the World 18 will be South Africa, where a strongly supported program has nearly 20,000 juniors participating. But worldfootynews.com has had a chat to some of the other countries that would be chances to be represented - USA, Great Britain, China, Ireland, Canada, Japan and Sweden. At time of writing no response was received to our enquiries from some of the other obvious possible candidates in Denmark, Indonesia and Malaysia. In this first of two articles we talk to footy representatives from the United States, Great Britain and China.
Given this is a new concept and international players are unlikely to have had the same level of exposure to Aussie Rules as most Australian participants, the AFL is allowing players up to 18 years old to compete in the World sides.
worldfootynews.com understands that when considering their nominations, international affiliates have been encouraged to look at the averages for each of the position categories to provide an accurate assessment of the players' athletic capabilities compared to the Australian (under 18) talent pool.
In addition to this, players must be:
1. A passport holder of a country other than Australia
2. A resident of country above for more than a minimum of the last three (3) years
3. Registered and nominated participant of an AFL International affiliate
4. Aged between 15 and 18 years in 2010 (players cannot turn 19 years of age in 2010)
5. Available from Monday 28th June through to 11th July to participate in a five (5) day high performance camp and the NAB AFL U16 Championships
Firstly to the United States, where junior development has so far been mainly kindled through schools programs, but with a few exceptions. Paul O'Keeffe, former USAFL President and current International Liaison says that "Yes, we have a small number of eligible players who have experience playing in our senior competition. We believe they are viable candidates for selection" and "The AFL has sent us a selection form for each players coach to complete. We will work with the AFL coaching staff in the final selection process. We are short listing the players that we take to the AFL".
"To have an international U18 team in a U16 competition would have been unheard of just 2 or 3 years ago. The impact to the USAFL will be subtle in the short-term as we do not have a large number of U18 players… but over the long-term it will be important as a young player will have opportunities to play at a high-level much sooner – and it will become a great feeder to the Revolution".
O'Keeffe isn't particularly expecting the AFL to fly US player to Australia for the tournament, but explained that it would be helpful to get the best talent on show. "No expectations – but it would be nice to have support from the AFL so that the best players can make the team. With our senior squads, such as the Revolution, we are never able to field our best teams due to costs. It is just the nature of the evolution of the sport. It would be great if this was not the case for this select team".
Overall USFooty is excited by the World 18 concept, "We believe this is a very innovative move by the AFL and we applaud their courage for trying something new. We hope to see more creative ideas like this in the future. This move is evident of how far the international game has come in a short amount of time".
Next, to the United Kingdom, where Mark Pitura, the coach of the Great Britain Bulldogs senior side, explained they will be "conducting open testing, for any young boy who wishes to attend and have the chance to be nominated for this team. This will be taking place at Carshalton Boys Sports College, Winchcombe Road, Carshalton, Surrey, SM51RW on Sunday 31st January at 11am".
Pitura expects to have nominations in to the World Team Manager Josh Vanderloo (a name familiar to our regular readers through his involvement with AFL Development and the International Cup) by 28th February 2010.
"Our country would hope to (get) at least 4 young gentlemen nominated for this team and hope that at least 2 get selected".
In terms of AFL support, other than providing the opportunity, Pitura said, "We aren't expecting to get support from the AFL to fly these boys over to Australia. However we have been told that once they arrive, all accommodation, meals, team and playing apparel, ground transport and medical cover will be supplied".
The UK may already have an exciting prospect. "One young man we have big raps on is Lewis Brackstone who is only 16 and stands 190cm. Last year he represented England at a senior level at the EU Cup in Croatia and also was a member of the West Wildcats Premiership side that won the AFL London competition in 2009. He also received their Best EU award. Lewis attends Carshalton Boys Sports College and has been playing AFL (Australian football) for the past couple of years after being exposed to the sports 2 to 3 years ago. He has already been nominated for this team and will be tested just like all the other boys on Sat 31st January".
AFL China's Andrew Sawitsch was a little more circumspect, saying that "At this stage I would just like to say that China has a big year on the cards. AFL China is excited and aware of the prospect of contributing some players to the inaugural world team. A fantastic initiative". Without jumping to too many conclusions, it sounds like there should be some young Chinese players in the squad and perhaps more announcements as the year progresses, and of course they have their showcase AFL game in October.
In our second article on this topic we'll speak with some more likely contributors to the World 18 and speculate on what the squad numbers might be like.