Nations prepare candidates for World XVIII - part two
Monday, January 18 2010 @ 06:58 am ACDT
Contributed by: Brett Northey
Views: 2,842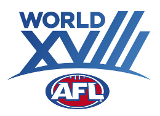 In this second article on the World 18, we speak to Ireland, Sweden and Canada about the likelihood of their Leagues contributing players to the international side headed to the AFL Under 16s later this year. The squad will probably be announced in March, and separate to a Pacific Islands squad also competing. As international players will in general have had less exposure to the sport, the two international sides can field players up to 18 years and will compete in Division 2, but nevertheless under the watchful eye of AFL club talent scouts.
See also our poll.
Ireland obviously has a lot of potential talent, through Gaelic football, but given past experience, it would not have surprised to see the AFL steer clear of Irish players for this scheme, which would be consistent with their approach to Ireland and their relationship with the GAA which is important to their International Rules series. Happily however this does not appear to be the case. ARFLI's Ciaran O'Hara, "As I understand Irish Players are eligible and we have been invited to submit players to the side".
O'Hara is hopeful of sending several youngsters Down Under. "Yes we are, although we are very conscious of the expense involved as the players are expected to cover airfares themselves. I will be working to try and get financial support from a sponsor to facilitate sending players from Ireland, as part of a programme of identifying talent who qualify. Unlike other countries though we do not have competitions in this age group so identifying the talent will involve some lateral thinking, but it should prove beneficial to the League in the long run. At next month's ARFLI AGM I will be announcing plans for a pathway programme aimed at attracting new members of the eligible age group to our clubs".
"The idea is that each club would seek to recruit a minimum of three players between the ages of 15 and 18 years old and invite them to train with them and learn the skills and tactics of Australian Football. These players would not be allowed to play in the Premiership but we will organise a specific pathway competition between a Dublin team and a country team to give them gametime with their peers. If any players in this programme meet the criteria for the Championship and if we or they can afford the air fares they will participate in the world team".
At the suggestion that the World 18 have a tough job ahead of them but it could be the start of something very important, O'Hara said, "I agree, and at the very least it will focus some leagues like our own on juvenile recruitment".
Canada has a relatively large group of candidates and will put forward some of its young talent, aiming to get between 1 and 3 players selected. Canadian football stalwart and World XVIII Coordinator Canada East, Greg Everett, told us "In Toronto we have a weekly training camp on both Saturday and Sundays for junior players. In November four Ontario AFL clubs in Toronto undertook week long junior clinics at high schools in their area to sign up kids for the new under 18 league starting in 2010. From the 4 clubs 180 kids signed up. These are the kids that we are now targeting to training and try out as the 10+ names we will put forward from Canada. On top of that 3 clubs already had 2 to 3 under 18 playing and these kids are also training but have a head start on the schools clinic kids".
Everett also anticipated candidates from Canada's west. "In Vancouver Mike McFarlane's North Delta Junior league is preparing his 150 kids for selection and as well as initiatives by Stuart Grills and his board from the BCAFL (BCFooty)". McFarlane also spoke to WFN, saying " In British Columbia through the NDJAFL we have some players that will be prime candidates to be selected for the World Team. Unfortunately with the cut off date for the age, we have had to eliminate about 10 players from selection. These are players from our original season and Wolfpack team that travelled to Australia in 2008. Some by as little as 6 weeks".
McFarlane was stronger in the view that the AFL should pay costs such as airfares. "For the AFL to give juniors an opportunity like this is fantastic. Hopefully the AFL will fully support an event they have initiated to make sure the best players are available to play for the World Team unlike the International Cup where a lot of times it is the players that can afford it, make the trip. As a professional organization who will gain the goodwill and publicity from this event. They should not come to amateur organizations to foot the bill".
Everett explained that to get any selected players to Australia, AFL Canada expects to chip in itself as well as assistance coming from the Provincial bodies (OAFL, BCAFL) and the players' parents.
And the Canadian league is already thinking ahead to future years. Everett again, "AFL Canada's position is this is an AFL initiative that should be on going yearly as a way to get kids into the sport. From here kids can be introduced to the national program via club games and provincial championships, then under 23 internationals and Northwind. It is hoped this will again be broken down to North American, South Africa and Europe teams in the future as the sport progresses". McFarlane agreed that the future was bright, "These are initiatives that will bring a higher quality of athlete, at a younger age to the sport. Which in turn will only benefit the international countries and the AFL, as their member clubs will have better quality athletes from more countries to add to their player pool".
Japan appears unlikely to be represented this year. The league has a relatively small junior program and Hideki Miyasaka, from AFL Japan, advised that "Japan would probably not have players participate since (a) few of the candidates would not able to travel in that season since they have school classes".
AFL Sweden President Jörg Pareigis was hopeful but not confident that Sweden would participate in the scheme this year. "We are hoping and have a handful potentials but in all honesty I do not expect anyone from Sweden to finally make the trip to the World 18". The Swedes are planning an Indoor Football tournament on February 6, and "we are aiming at offering a try out for the interested juniors". With the AFL covering most of the costs in Australia, AFL Sweden will aim to raise money to cover flight costs for any talent that looks worthy of a spot.
Quite sensibly Pareigis has some concerns at the level of play the World 18 will face and whether it would be compatible with young Swedish players at this early stage of that country's footy development. "What I think is hard for us to judge is the quality of our guys in comparison to the Aussie kids. It would be great for us to send someone and it would be a great experience for that player as well. On the other hand are we facing the risk that the world team will get absolutely smashed in Australia, which would not contribute to the development of those players involved".
That's very hard for everyone to judge. Division 2 features teams like NSW/ACT who field very solid players but also some speculative selections of promising athletes relatively new to the game. Certainly the World 18 will need a core of slightly more experienced players from nations like South Africa. The age advantage of being able to field 18 year olds will be important, so if there are a handful of young men with senior experience that will also stand them in good stead. But with the travel factor, a language barrier for some, little time to gel together, many players with few games experience, and the Pacific players competing separately, certainly it will be a tough contest.
On the upside expectations will be low for this first-time experiment, and it will set a baseline that is only likely to be improved upon thereafter. A key will be if each eligible nation can get their best candidates into the team, especially with some quality 18 year olds, then hopefully the internationals will be competitive.
Several other countries may also contribute but had not replied to our queries at time of writing. At a very speculative guess we may see a squad of around 30 with a breakdown perhaps something like: South Africa 11, China 4, Great Britain 3, USA 3, Canada 3, others 6 (e.g. from Denmark, Sweden, Indonesia and Malaysia).
We expect the squad to be named in March this year and be in Australia for the camp and Under 16 championships from Monday 28th June through to 11th July.