World Footy Rankings - the inaugural list
Thursday, September 09 2010 @ 10:59 pm ACST
Contributed by: Brett Northey
Views: 9,372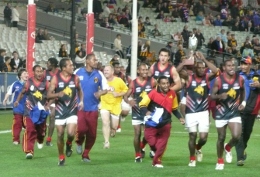 worldfootynews.com is pleased to present our inaugural list of statistically based World Rankings using a modified version of the system proposed by Cam Homes earlier in the year (which was in turn inspired by the IRB rankings system). Note that we stand by our 2006 and 2008 rankings, but as of August 8th 2010 we now defer to our new statistical system. We emphasise none of these are official rankings as anointed by the international Leagues or the widely recognised world governing body, the AFL, but given a lack of a recognised alternative, we hope they provide a talking point and become respected enough to at least play a de-facto official role.
The honorary top spot is awarded to Australia until such time that a credible argument can be made that they do not deserve that position. Second spot goes to reigning International Cup champions and three time IC Grand Finalists Papua New Guinea. They narrowly edge out 2005 IC winners New Zealand.
There is a substantial gap to a tight bunch of three, headed by inaugural European Championship winners Ireland in 4th, followed by IC2008 surprise packets Nauru (5th) and the United States (6th). The top 10 is rounded out by the rising stars of South Africa (7th), European Championships runners-up Denmark (8th), Samoa (9th) and Great Britain (10th), who dropped valuable points with a relatively low finish at the recent European tournament.
There are 15 countries ranked, and a further 6 countries listed with a provisional value but are not actually awarded a position until they have played 8 qualifying matches (this was increased from a previously proposed 5, after which it was deemed sides had not settled into a ranking reflecting their true strength). Other requirements are that if a country does not play for more than 4 years they lose their position but not their ranking points. If a country does not play for 8 years they will also lose their ranking points, starting from scratch when/if they resume competition, unless a special case is considered.
The full rankings are listed below, which are valid from 8th August 2010 with data including the 2010 European Championships and the 2010 49th Parallel Cup between the US and Canada.


World Footy News / Homes Australian Football World Rankings
(as at 8th August 2010)
Rank
Team
Points
Games
1
Australia
-
-
2
Papua New Guinea
53.89
23
3
New Zealand
53.84
24
4
Ireland
47.37
30
5
Nauru
47.06
13
6
United States
46.53
29
7
South Africa
43.92
16
8
Denmark
43.46
34
9
Samoa
41.85
18
10
Great Britain
41.10
35
Prov.
Croatia
40.60
4
*
Prov.
Peace Team
39.88
5
*
11
Sweden
39.81
18
12
Canada
38.01
29
Prov.
Iceland
35.64
4
*
13
Germany
34.37
9
Prov.
China
34.00
5
*
14
Japan
33.33
18
15
Finland
29.02
13
Prov.
India
28.33
5
*
Prov.
Spain
28.00
6
*
* Nations marked in grey with an asterisk have played less than eight (8) matches under our criteria, and currently hold a provisional ranking, but are not yet officially ranked.
In the coming weeks we'll modify our World Rankings page to reflect these rankings, and update them as new matches which qualify are played. We'll also include a full list of eligible games and criteria.