Woods on his new role and Europe
Thursday, March 03 2011 @ 10:28 pm ACDT
Contributed by: Brett Northey
Views: 3,030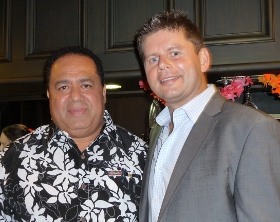 worldfootynews.com caught up with AFL International Development Manager Tony Woods the morning after the big AFL Fiji fundraiser in Adelaide a couple of weeks ago (Tony is pictured with David Rodan Senior, Fiji's coach). Some of those discussions have featured in recent articles. In this part we canvas how he has found the role, the new development officer in Europe, and for those in international footy who have had close dealings with the AFL's Josh Vanderloo, we asked about his current status in relation to the international side of the game.
WFN: How long have you been in the role now?
Tony: Coming up to a year in May. So I'm 9 or 10 months in.
WFN: Which countries have you visited?
Tony: I've spent time in South Africa, time in the Pacific predominantly PNG and Tonga, time in the US, and India and China.
WFN: Do you think you're getting your head around all the different programs on all the different levels across the world?
Tony: It's a challenge because the world's a big place as you know, that sounds cliched but the reality is that it is. Dealing with multiple organisations within multiple countries that all face different challenges, all connected back to playing footy. It's a lot to get your head around but I'm really enjoying it. I was saying to you last night a great thing about the role and what I love about it is that I get to meet a lot of amazing people all around the world from all walks of life and different sets of circumstances that are all united in their love of footy and that for me is something that's really quite unique and that I know I'll continue to love about the role. For me it's about working with the AFL in the team and our affiliates around the world and people and clubs to plug into that to advance Aussie Rules outside of Australia. It's an exciting part of the business to be in.
WFN: Josh Vanderloo used to handle a lot of international football for David Matthews (AFL Game Development Manager), but has a national participation role, will he still... have a role in international football?
Tony: Josh did a really fantastic job prior to me coming on board. Essentially Josh was more or less performing multiple roles. In recent times he's been allocated to the national participation role which is great for him but that will require more focus on the domestic market. So you'll be seeing less of Josh in the international marketplace. But with that comes opportunities, so Pete Romaniw when his visa was unsuccessful in Europe has come back and has taken up a position as international and multicultural coordinator so he'll be working with me on a lot of international projects, specifically the International Cup.
But in saying that as we look to build participation programs outside of Australia Josh will be involved in specific programs on a case by case basis. I know Josh is really passionate about international and so even though he'll be out of the picture a bit I know his interest won't drop off. But it's exciting, it's a good opportunity for Peter, I think Peter is really well suited, his six months in Europe during the application process was invaluable and really has provided a lot of valuable information back into the AFL about the setup in Europe and a lot of the challenges the countries face.
That's paved the way for the next appointment in Europe. AFL Europe has just appointed a young man Ben MacCormack which is a fantastic appointment. Ben has a great background in sport and government and footy in Australia and has relocated to England for at least the next five years. I'm expecting that to be a significant injection of talent and energy into AFL Europe.
WFN: Is that a 5 year contract?
Tony: He comes on board as a full time employee. I think the point of 5 years is that we at least knows that he's made the committment in the UK for 5 years. People ask me what is the AFL's committment to Europe. That's a pretty significant commitment to fund a dedicated resource based in Europe.
WFN: What sort of areas do you see him working in, like junior development or setting up and formalising organisations?
Tony: I think first and foremost his priority is to continue to work to unite Europe. To provide the sort of level of assistance and resources that we command, assist the various leagues and clubs in the running of their competitions and governance. His other role will be to actively look to seek revenue and corporate support and that type of thing. So it's a holistic role but we're really confident he'll do a good job.