Season Preview - All new Southern China Football League (SCAFL) kicks off this weekend
Friday, March 11 2011 @ 03:55 pm ACDT
Contributed by: Andrew Sawitsch
Views: 6,317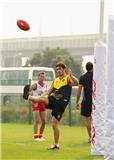 It may only be March, and one of the teams may only be less than a year old, however this weekend will see Round 1 of the newly formed Southern China Football League (SCAFL) played amongst much fanfare in Guangzhou this Saturday.
In possibly the biggest development in the Asian scene so far this year and another watershed moment for Australian Football in China, four teams in the Pearl River Delta region of China (Guangzhou Scorpions, Hong Kong Red, Hong Kong Blue & Macau Lightning) will come together this Saturday for what's been billed as the inaugural 'Gala Round' and ultimately hold 5 rounds up until June to decide the premier team of the 2011 season.
The league is the third to be started in China in as many years, with the Beijing Bombers and Shanghai Tigers clubs starting 9-a-side leagues, BAFL in 2009 & SHAFL in 2010 respectively, as a way to fill the gaps in competition calendars that long distance can cause. The SCAFL however, is unique in that it is played with 12 players per side, incorporates 3 established clubs in the region who are within only 1-3 hours travel of each other and Guangzhou's home ground is a world class cricket stadium, used in last year's Asian Games.
Editor: worldfootynews.com welcomes back Andrew "Sanga" Sawitsch to our writing team, after his extended time working in Japan and China.

The Guangzhou University of Technology Cricket Stadium, or "GUTS", as it's affectionately referred to by its proud tenants, the Guangzhou Scorpions, are thrilled at the prospect of having a full size Australian Football field in their possession. Jon Hopper, president of the Scorpions explains "Melbourne has the MCG, Guangzhou the future Aussie Rules capital of China has GUTS!"
The concept of SCAFL was first talked about last year when a few members of the Guangzhou Scorpions joined with Hong Kong for a match against Singapore. The Scorpions also played their first match in their own right against Macau Lightning in May and in September the expanded China Cup was played in Hong Kong, featuring a combined China Reds team (including some Guangzhou representatives), Macau Lightning, Hong Kong Dragons and an annexe team of the Dragons, the Pok Fulam Vikings. (WFN report: Hong Kong to host China Cup) A match was also played between the Dragons and Scorpions in Guangzhou late last year to round off their seasons. Naturally the dialogue continued and in January this year a SCAFL board was formed, involving all four founding teams. Since then a lot of hard work has ensured that a successful SCAFL season beckons.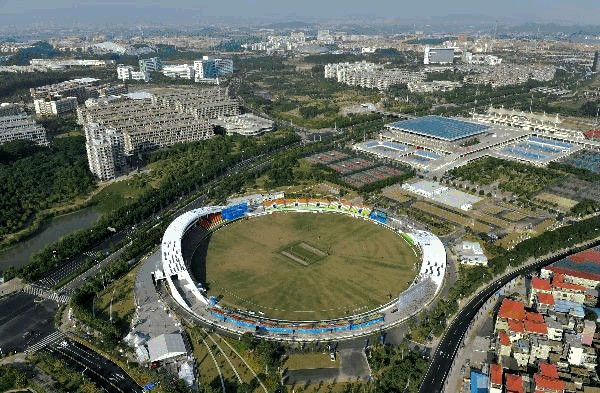 The Pearl River Delta is China's main economic hub and having access to a world class cricket ground, fine weather for most of the year, a good supply of umpires and a sizable Australian expatriate community in the region, certainly makes it exciting to think of the possibilities for further growth of the league. In fact, Jon Hopper has told WFN that a new team from the Shenzhen region may even be a prospect as early as next season. Hong Kong as a club have in recent years had very healthy numbers for their matches and tours and will comfortably field two evenly matched teams in this year's competition. From a development point of view, both Hong Kong and Macau now have established Auskick centres, all teams hope to include some local and international talent on their list in SCAFL games and there are discussions about having a rule in which each team must have one local on the field at all times. With the China Red Demons hoping to attend the International Cup again this year, this new Chinese footy chapter could uncover some more recruitment avenues for them. Of course, we'd love to think that one day too, Macau and Hong Kong, as they represent themselves independently in international sporting events in other sports, could one day field International Cup teams in their own right as well.
WFN will continue to post updates on the league and wishes all teams the best of luck for the season. Congratulations to the organisers on this exciting new initiative.