Call to support World XVIII
Thursday, March 17 2011 @ 07:27 am ACDT
Contributed by: Brett Northey
Views: 1,924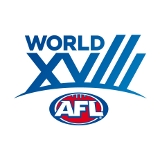 Last year the World XVIII youth side competed at the NAB AFL Under 16 Championships for the first time, alongside South Pacific who were also on debut. worldfootynews.com considers this one of the AFL's best international initiatives as it provides a pathway for young talent and also focuses leagues on the need to bring through the next generation. Most on-the-ground costs are covered by the AFL, but although the South Pacific players seem to find funding to make their way Down Under the World XVIII appears to be less well supported.
So in 2010 we helped fund Denmark's Mathias Biron in his journey to Australia, putting in AUD$800 to help with airfares. In 2011 we're looking to assist one or two players again. We can part fund it from our modest site income, but we are also throwing open the invitation for our readers to contribute if they wish. Rather than have a tin rattle for small donations here or there, we are initially asking for pledges of commitment from anyone who would like to help so we can get an idea of how much we might raise before then discussing with the AFL the best way to use it. However the AFL have indicated they support our idea. Simply send us an email at supportworld18@worldfootynews.com with your details and pledge and we will contact you later if we go ahead.
You can read more on last year's supported player in Young Dane off to a good start and Biron's World XVIII experience put to good use.