World XVIII crack first win (updated)
Tuesday, July 05 2011 @ 10:33 pm ACST
Contributed by: Troy Thompson
Views: 3,790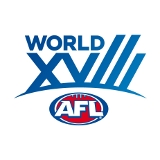 The World XVIII team have had their first win on Australian soil defeating an Indigenous Under 15 team in a warm up match this morning. Played in cold blustery conditions at Arden St, the World XVIII team won every quarter to run out winners by about five goals (no official scores were kept to our knowledge).
While their opponents were overall smaller and younger, they gave a competitive perfomance that made the game a solid hit out for the World XVIII team that will play their first match in the National Under16 Championships in Sydney on Sunday. The World team who only came together in camp yesterday looked to mesh much more as the game wore on and they all learned a little more of their team mates.
The World XVIII team were lead today by Aliir Aliir and he lead off with the first goal of the match and truly lead from the front along with his other tall team mates in Anthony Daw and Darren Ledoux. They were well supported around the contest by small men like Charles Irra, Ash Dow, Alex Jalloh, Ring Majok and Majok Annet.
Good repelling attacks from Mlki Masaki (who is a well built centre half back), tall full back Muiris Bartley, and half backs Justin Ngudu and Dan Lahane stemmed the tide on most occaisions when the Indigenous side broke the lines with quick running footy.
Others like Henri Peni, Keiumette Mollele, Jason Silen and Sikhulule Gamakhulu were able to use their speed to break lines of their own and create opportunities with good delivery. While impressive tackling by Sami Sir and Muiris Bartley among others showed what they could do when they didn't have the ball.
A big squad who all got a run meant the World XVIII team gave a little taste of everything they had to offer, good natural foot skills, hard tackling, pace and flair. The squad has a good balance of all the necessary attributes of a good team. No doubt they will improve on this in their time together. Will all this be good enough in the tournament to come? The short answer is we don't know. Last year seeing them against the South Pacific before the tournament it was easy to see they would be off the pace a little.
Today's hitout against a younger squad without the same depth as the state squads was perhaps not a great indicator, but it did give the team a chance to put all their skills on show. Last year's match against the South Pacific was one that mostly had the team defending for much of the game.
They now have more days to develop not only their skills further but bonds that will hold them in good stead on the field and no doubt in their years of footy to come. With Chris Johnson and Brad Johnson at the helm and a team of other great footy minds and special guests such as Shae McNamara the lads are in for a big footy week this week before the serious stuff even starts.
Sadly the two East Timorese players who were to be part of the team will not be with the squad on tour due to visa problems.