Small losses for internationals in U16s
Wednesday, July 13 2011 @ 04:32 pm ACST
Contributed by: Brett Northey
Views: 2,857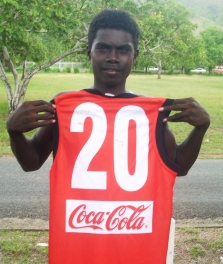 The NAB AFL Under 16 Championships Division Two are on in Sydney's western suburbs. The two international sides were not part of Round 1 but had both wins in Round 2. Today saw Round 3 at Bruce Purser Reserve and both the World XVIII and South Pacific suffered small losses.
The World XVIII went down to Queensland by 18 points in a close tussle. Earlier in the day the South Pacific played the combined NSW/ACT squad, being defeated by 21 points. The results show that their previous wins were no flukes and they deserve their spots at the Championships, but that they are probably still a little behind their Australian compatriots, given a slight age advantage to the international teams.
The two international sides head back to nearby Blacktown to end the tournament on Saturday, with a match against each other. Queensland are undefeated and look set to win Division Two.
Pictured is exciting South Pacific player Brendan Beno from PNG.
NSW/ACT 12.6 (78)
South Pacific 8.9 (57)
Queensland 11.6 (72)
World 8.6 (54)
Full Results
NSW/ACT 12.6 (78) defeated South Pacific 8.9 (57)
Goals:
NSW/ACT: Clyne 3, Clothier 2, Perris 2, Gibbons, Pola Smith, Steele, Van Luenen, Potter
South Pacific: Beno 2, Gavuri, Heatherley, Tupou, Tuitupon, Alphonse, Lawrence
Best:
NSW/ACT: Clyne, Hawkins, Perris, Gibbons, Ryan, Clothier Van Luenen
South Pacific: Beno, Gavuir, Heatherley, Logo, Tupou, Lawrence
Queensland 11.6 (72) defeated World 10.6 (54)
Goals:
Queensland: Davidson 2, Pendlebury 2, Mills 2, Dawson, Goodall, Tickner, Bourke, Conway
World: Daw 2, Gamakhulu 2, Saad, Molelle, Majok, Kur
Best:
Queensland: Conway, Pendlebury, Selman, Tickner, Davidson, Dawson, Watts, Radford
World: Saad, Gamakhulu, Kur, Abdallah, Aneet, Bartley
Tasmania 14.10 (94) defeated Northern Territory 2.6 (18)
Goals:
Tasmania: Wiggins 3, Boscott 2, Visser 2, Willis 2, Webster, Sergeant, Cleaver, Blazely, Lee
Northern Territory: Ankers, Darcy
Best:
Tasmania: Boscott, Visser, Smith, Rayner, Webster, Kolodjashnij, Riddle
Northern Territory: Richardson, Pollard, Westerberg, Rioli, Chisholm-Espie, Ross