Post IC11 World Rankings update - Ireland #1 contenders
Wednesday, October 05 2011 @ 07:41 pm ACDT
Contributed by: Brett Northey
Views: 3,745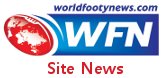 WFN has updated its unofficial World Rankings after the recent 2011 AFL International Cup. With so many matches played (54) there was quite a bit of movement on the ladder, and 4 teams moved into full ranking status for the first time (Tonga, India, China and the Peace Team).
Ireland's unbeaten tournament was enough to push them up into 2nd, making them effectively the number 1 contender to Australia. Papua New Guinea, so often runner-up in the IC, slip down one spot to 3rd.
Tonga impressively debut in the top 10.
There are now 19 fully ranked sides and 6 provisionally ranked nations (yet to play 8 eligible games).
Read on for the full list.

World Rankings
There is currently no official system of World Rankings for Australian Football, as the international game is still mostly amateur, still maturing and there are often difficulties in nations having all their best players available. However, due to popular demand, worldfootynews.com has been providing rankings since 2006. Below are the current rankings.

This is the first update since 6th June 2011 which was the last prior to the 2011 AFL International Cup. The winners Ireland have replaced Papua New Guinea as the number one contender to Australia.

The matches on the initial seeding day were much shorter games so weighted as 1 whereas International Cup matches are normally worth double.

54 IC11 men's games were played, with 4 teams graduating from provisionally ranked to fully ranked (i.e. have played 8 eligible matches) - Peace Team, China, India and Tonga.

Big movers were South Africa up 3 (although a slightly worse tournament than 2008 their ranking had some ground to make up from their poor results when first on the international scene), Denmark down a massive 7 positions and a 3 spot drop to Japan and Finland, in part due to some new entries being above them.

Perhaps one anomaly is the USA down a spot despite an excellent tournament. However, the rankings reflect how a team performs against its opponents, not where the side finishes a tournament (though obviously these are often closely related). Their early wins were against lowly ranked sides, and their superb victory over South Africa was somewhat diluted, statistically, by South Africa's historically low ranking. The US were then defeated by Papua New Guinea and New Zealand, hence overall their ranking did not push up.

Japan are somewhat hard done by, a symptom of the way the rankings work and having finished at the bottom of IC11 Division 1 meant they didn't have the opportunity to defeat Division 2 sides they were clearly better than. No rankings system is perfect.


World Footy News / Homes Australian Football World Rankings
(as at 28th August 2011)
Rank
Team
Points
Games
Rank Change
1
Australia
-
-
steady
2
Ireland
57.78
38
+2
3
Papua New Guinea
54.66
29
-1
4
New Zealand
53.00
33
-1
5
South Africa
49.03
22
+3
6
Nauru
46.15
19
-1
7
United States
45.87
35
-1
8
Tonga
44.73
9
new
9
Great Britain
43.51
43
+1
10
Samoa
41.85
18
-1
11
Canada
37.82
35
+1
12
Sweden
37.41
25
-1
13
Germany
37.37
10
steady
14
Denmark
37.06
41
-7
15
Peace Team
36.46
11
new
16
China
34.36
11
new
17
Japan
30.39
24
-3
18
Finland
29.02
13
-3
19
India
28.45
11
new
Prov.
Fiji
45.21
6
-
*
Prov.
Croatia
40.60
4
-
*
Prov.
France
38.23
7
-
*
Prov.
Iceland
35.64
4
-
*
Prov.
Spain
28.00
6
-
*
Prov.
Timor-Leste
27.40
6
-
*
* Nations marked in grey with an asterisk have played less than eight (8) matches under our criteria, and currently hold provisional ranking points, but are not yet officially ranked. Spain has not played for more than 4 years and so would be provisionally ranked either way. They must play an eligible match by 13/08/2013 to remain on the list.