AFL Gold comes to i-Phone and i-Pad
Friday, December 16 2011 @ 09:11 am ACDT
Contributed by: Tobietta Rhyman
Views: 5,836

Finally, after much speculation, Aussie rules gameplay finally comes to the smart phone and tablet PC with the AFL Gold edition, brought to you by Tru Blu entertainment and Wicked Witch Software. This latest AFL game is an adaptation of the popular AFL Wii for recent iOS devices and captures many popular features of the original game, such as teams from AFL, VFL and TAC Cup, player and team creator, and career management.
The graphics are in full 3D, from the player characters to the realistically represented AFL stadiums. With motion captured animations and real ball physics linked to high quality sound effects, the game creates a live experience, which combined with dynamic camera angles, television like transitions and smooth effects, lands you right in the middle of the action.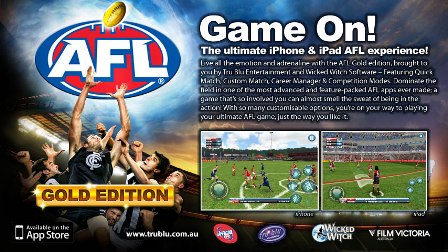 Added to that the intuitive virtual controls and you might find yourself playing for hours, working up from the easy levels, through to Legend difficulty, defeating opposition teams and triumphantly singing authentic club songs, attaining player medals and premiership glory.
The Quick Match option is the best way to throw yourself into the action- choose your team and get in a quick fix of AFL action as you battle it out on the field. For a more in depth experience, try the Custom Match option which allows you to chose the stadium, geurnsey and game length, and includes alterable effects such as weather conditions, time of day and crowd characteristics.
Begin your career playing in the TAC Cup and work your way up through the VFL to AFL level and premiership champions. Coach your team through training, tackling realistic scenarios such as injury management and tribunals, or take the step up into management and control staffing, salary caps and other finances, player and coach contracts, team sponsorships, draft picks and multi-player trades. Or simply take to the field with a selection of over 50 teams, plus unlockable bonus teams, and play in a selection of 4 different leagues. Competitions features include team line ups, fixtures, ladder and player stats.
The game is available to download from http://itunes.apple.com/au/app/afl-gold-edition/id479793371 and more information, including screenshots and support can be found on the Wicked Witch website www.wicked-witch.com.au