23 teams set for IC14, AFL 9s scrapped
Monday, February 24 2014 @ 09:46 pm ACDT
Contributed by: Troy Thompson
Views: 10,597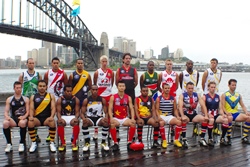 Twenty three teams are set to contest the 2014 International Cup men's competition. Timor-Leste is the notable team missing for the initial acceptances for the tournament to be held in Melbourne in August.
New comers to the International Cup are Croatia, Indonesia, Pakistan, the Solomon Islands and Vanuatu. Finland return to the International Cup after missing in 2011.
Others such as Spain, Germany, and Iceland look like missing yet again presumably to keep funds invested in their local development. And hopes that we would see our first South American team at the International Cup have faded as no teams have been nominated. It is not known if they had intended to play in the AFL 9's section that was initially mooted.
The proposed AFL 9's section has been scrapped as the overwhelming desire of countries was to field teams in the 18-a-side competition.
The competition will be launched at Federation Square in Melbourne on August 9th and conclude with the Grand Final on the MCG prior to the Round 22 Hawthorn v Geelong night match.
At previous International Cups there have been late withdrawals or additions to the attendees so keep an eye out for the final official list from the AFL in coming weeks.
The countries expected to be attending are as follows:-
IC14 - Men's
Canada
China
Croatia1
Denmark
Fiji
Finland2
France
GB
India
Indonesia1
Ireland
Japan
Nauru
NZ
Pakistan1
Peace Team
PNG
Solomon Islands1
South Africa
Sweden
Tonga
USA
Vanuatu1
1 - Debuting at the International Cup in 2014
2 - Returning to the International Cup after an absence.