Karmichael Hunt – Is there a silver lining?
Friday, September 05 2014 @ 11:54 am ACST
Contributed by: Wesley Hull
Views: 1,905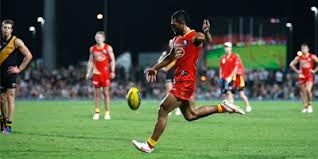 The number crunchers will point to sheer statistics. A return of 44 senior games at a cost of millions of dollars. Little room for argument there. Maybe adding on his collection of reserve grade games and his inaugural season in the VFL pushes that number of games higher, but not significantly. No, on statistics alone it is difficult to see success.
Hunt's situation is also not helped by the prior failure of Israel Folau. Hunt was clearly the superior Australian Rules player of the two, but the inability of Folau to grasp the game and walk away placed Hunt in the red immediately. No matter what he did, possibly short of a Brownlow, he would always be earmarked as part of the failed Rugby-League convert experiment.
His after the siren match-winning goal in Cairns in 2012 was briefly deemed evidence that the idea would work out well, but since that time patchy form, injury and opportunity have seen Hunt's stocks as a player dwindle rather than rise.
So is there any way that the Karmichael Hunt era might be seen as a positive experience? Very few sections of the media believe so, and word on the streets (particularly southern streets that may not see much outside of their own sphere of involvement) is unflattering. The one constant shown is both his and the club's statements on his departure was that he was an absolute professional who was a great mentor to the younger players around him. Positive, but some might argue that he was paid enough to be both many times over.
For me, however, there is a tangible legacy that may still grow into something greater.
As a Rugby League player I really saw Hunt as an annoyingly good Brisbane Broncos player who had to be contained when my team, Parramatta, played against them. I didn't like or dislike him – just saw him as another young pup in the Bronco's production line of talent. I certainly didn't admire him, just tolerated him.
During the period 2006-2009 I had been working hard to grow junior AFL through schools in southern Cairns – a heartland of Rugby League. I had been able to chip away through a base of Australian Rules loving families, some kids who played because I made them welcome regardless of abilities and the occasional curiosity player and sometimes a genuine athlete from rugby league who gave it a go out of boredom, or because their mate asked them. I could never crack the rugby league fraternity though. The peer pressures, family beliefs ("I hate AFL") and choosing career pathways meant I might go for years without making any significant inroads.
Karmichael Hunt was the catalyst for change. With his signing, and that of Folau, kids who idolised those men as Rugby League players were given a telepathic message. "Play Australian Rules, lads, it's better than you think."
Over the period 2010 to now I have been able to help create a culture where rugby league players actually call Australian Rules their second sport. In some cases players have switched codes. Maybe it will take a player or two to reach the highest AFL level for people to understand that change – and that is closer to happening than you might think. Not only have I seen success a school levels, but that has also spilled into local clubs. It is a quantum leap for a sport to go from hated to being a second, and first, preference.
My argument is that the Karmichael Hunt era as an AFL player might be over, but I think we are still seeing the ripple effects of his decision to play the game. I cannot speak for other coaches up here in Cairns, or the whole of North Queensland for that matter, so this can only be an opinion piece. But that opinion has been forged at the coal face of the changes to junior Australian Rules football.
Recent years have seen the Cairns region produce some great talent: Courtney Dempsey, Charlie Dixon, Jarrod Harbrow, Peter Yagmoor, Sam Michael, Rex Liddy, Lewis Moss. There are more young sixteen to eighteen- year olds headed south to follow in their footsteps. None of these kids are products of the Karmichael Hunt era. But five to ten years from now that pipeline from the north will have grown, and amongst it will be the odd one or two who gave it a try because Karmichael Hunt did. I already know who some of them are.
I cannot argue with statistics. The whole idea of converting players from another code to ours was costly and arguably a failure across the board. The media also prefers a good "negative" story every now and then.
But up here, over 3000 kilometres from the heartland of Australian Rules football, I see things a little differently. I might not have cared for Karmichael Hunt as a rugby league player, but as an ally in growing the game in a tough market I have nothing but the greatest admiration for what he has done, and helped me to do.