AFL Commission head recalls PNG's IC victory
Saturday, September 27 2014 @ 10:52 pm ACST
Contributed by: Brett Northey
Views: 2,344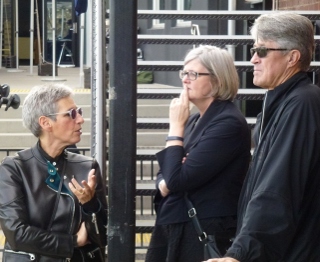 AFL Commission Chairman Mike Fitzpatrick was an onlooker at the 2014 International Cup (pictured here at the Women's Grand Final with fellow commissioners Linda Dessau and Sam Mostyn) and it's pleasing he took the time to mention it during his AFL Grand Final pre-match address.
The full speech can be read here, and although it was only one sentence, it was good that the IC got a mention, as it shows he's not ashamed to spruik the international development of the game.
"The International Cup won by Papua New Guinea was again a great success, and goes from strength to strength. Our game really has no boundaries."
Fans of growing the women's side of the sport, as we all should be, would also be pleased to read Fitzpatrick say (speaking about women's football although no doubt primarily within Australia):
"Women's football is on the march, and the AFL is going to support it."