Mitchell goes home; and 1 Canadian plus 10 NSW players in the GF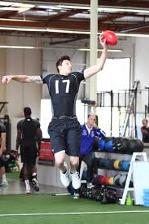 Buried amid the free agency news, the fall out from the Grand Final, James Hird and Essendon - the news that Sydney's American Rookie Patrick Mitchell has pulled the pin and heading home is barely earth shattering. However - along with the return of Irishman Tommy Walsh - it does highlight the journey of Mike Pyke and the massive gamble the Swans took across this period last year.
Pyke of course is now an Australian citizen, however, technically we can still claim him as the first Canadian to contest 2 AFL Grand Finals! Of interest was the state of origin breakdown across the 44 players last week as well - 10 of whom emanated from NSW which perhaps again highlights the gamble and investment on growing the game outside of it's strongholds both domestically and internationally.
The Swans have already been reported as bidding farewell to Irishman Tommy Walsh - however, their US experiment player Patrick Mitchell is also heading home after a pretty uneventful season in the NEAFL where he struggled as much with the game as with opportunity in a Swans NEAFL line up including Aliir Aliir, Sam Naismith and Toby Nankervis. There might still be some who regard these efforts with internationals as an expensive exercise in futility however - Mike Pyke still shines a beacon in the current era - lit formerly by Jimmy Stynes. When the Swans released Shane Mumford to the Giants during the 2013 trade period they headed into season 2014 with Mike Pyke as the clear number one ruckman. As it turned out - unheralded back-up Tom Derickx surprised in his improvement when called upon - however, heading into a finals campaign and then the 2014 AFL Grand Final and it was Pyke who was the stand alone number 1 ruck. Yes - he had support from Tippett and Reid. That an internationally sourced player had both this responsibility entrusted to him - and that his side contested the Grand Final is a reminder as to what clubs are seeking when taking a chance on players such as Mitchell, or Eric Wallace at North Melbourne, Jason Holmes at St Kilda (who according to Paul Hudson was very, very close to senior opportunity in 2014) and Mason Cox due to start at Collingwood. Read a good story here including view the Jason Holmes video clip.
A side story to the 2014 AFL Grand Final was the number of players across the two sides who are NSW sourced. The Sydney Swans have a proud heritage of NSW sourced captains - dating back to Denis Carroll from Albury, Paul Kelly from Wagga, Brett Kirk also Albury and now Jarrad McVeigh from greater Sydney. Along side McVeigh (Pennant Hills) were Kieran Jack (Pennant Hills), Craig Bird (Nelson Bay),; Dane Rampe (Uni of NSW), Harry Cunningham (Turvey Park) and Ben McGlynn (Wentworth). The other 4 players from Hawthorn being Matt Suckling (Wagga), Isaac Smith (Cootamundra-Wagga), Luke Breust (Temora) and Will Langford (East Sydney). To put this into perspective - David Hale and Kurt Tippett were the two Queenslanders; Grant Birchall the sole Taswegian and Rioli the sole Northern Territorian. There were 4 from WA and 4 from SA. The Victorian reps can be broken into 11 metro and 10 Vic Country if we follow a junior state pathway splitting protocol. The west of Victoria was very well represented - Goodes and Lloyd from Horsham; Rohan from Cobden and just up the road from Colac of course the Norm Smith medallist Hodge. Just down the road to Warrnambool is the home of Jordan Lewis - considered stiff not to take home Norm himself. Brad Sewell from Newlyn near Ballarat. And Colac in fact provided a further 2 emergencies in Simpkin and Towers.
All in all, there's players to be developed all over and the greatest value for the AFL is to have identifiable talent pathways. The AFL Grand Final would be much the poorer without the diversity of talent that was on display.