Phillip Hughes – A Tribute from World Footy News.
Saturday, November 29 2014 @ 02:49 pm ACDT
Contributed by: Wesley Hull
Views: 2,143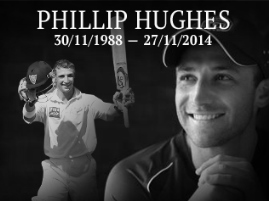 I went downstairs this morning to find my cricket bat. I wanted to join the legions of people honouring the passing of Phillip Hughes by putting it outside the front door of our house as a mark of respect to the young man. But I couldn't find it. I guess at some point we had given it away and I'd forgotten. I cried a little. The only time I'd have picked the bat up for a truly worthwhile reason and it wasn't there.
Instead I settled for my daughter's Vigoro bat: a similar game for women with a bat that looks more like a paddle, yet can slice a ball through point with equal effectiveness. It might look odd, but it sits out front representing just as much respect.
Phillip Hughes was not bought up with Australian Rules football. His background was more with cricket and the rugby codes. But there is an inextricable link between cricket and Aussie Rules which goes back to the 1850's when Aussie Rules was created as a way of keeping cricketers fit during their "off-season". But apart from that, most sportspeople have an admiration, or at least respect, for all other sports. Elite level players of most sports recognise the levels of skill and commitment of players in other sports.
The tragic death of the young Australian test cricket opener has hit the sporting community hard. To watch the absolute anguish of his family as they somehow find a way to come to terms with what has happened is too sad to watch. As a parent myself I cannot begin to imagine what they are going through. Similarly, watching Australian cricket captain Michael Clarke try and negotiate an emotional speech on behalf of the Australian players just made me cry a little more also. Put simply, this tragedy has hit home to many, many people across all walks of life.
Sports people somehow represent our own aims and desires. To have those people leave us in such inexplicable and sudden ways leaves us shocked, but also confused. How could this happen. I remember when both Peter Crimmins (Hawthorn) and Trevor Barker (St Kilda) lost their battles with cancer. They were still playing age and it was just not believable that such stars were mortal. Crimmins was just 28 when he passed away and Barker was 39. The only thing that made it a fraction easier to understand was they both had prolonged treatment for their cancers which took away some of the shock.
Not so when Essendon footballer Doug Tassell was killed in a car accident as he was driving to Melbourne to play for the Bombers on the Saturday. My dad tried to explain why Tassell would not play again to the nine year old me. Much like explaining Phillip Hughes death to a nine year old cricket fan today, it just didn't make sense.
Not many people would remember Doug Tassell or the accident, but the death of Darren Millane in a car accident in 1991 devastated fans of Collingwood and emotionally affected all football followers. He, like Phillip Hughes, was just 26 years old and at the peak of his powers. A hero of the historic 1990 Collingwood premiership team, Millane was tragically and dramatically taken from us just a year later. To this day there are people who still cannot comprehend Millane's passing.
The death of Hughes is a profound loss. To his family and friends, but also to the sporting community as they realise that life is fleeting and time spent playing a favourite sport more so. Hughes has left us at an age where he should have been continuing upwards, possibly to greatness – who knows? Matthew Hayden (8625 runs, 103 Tests), Damien Martyn (4406 runs, 67 Tests) and Justin Langer (7696 runs, 105 Tests) are recent examples of cricketing greats who struggled in their first attempts at big time test cricket, found themselves discarded for lengthy periods, then when given that second chance they took it with both hands. It is entirely possible that Hughes may have done the same but for tragedy. Mark Waugh had said he was likely to have played in the First Test next week against India.
Hughes was to turn 26 early next week. That is way too young in anyone's language, but in sporting parlance it is the age where many players are at the height of their powers. Lance Franklin is just 27 years old. To put this into perspective in football terms, look at the 2006 AFL Draft. Players chosen were mostly born in 1988/9. Players the same age as Hughes from that draft include Bryce Gibbs (Carlton), Joel Selwood (Geelong), Travis Boak (Port Adelaide), Tom Hawkins (Geelong), Lindsay Thomas (North Melbourne) and Joel Tippett (Sydney). In Rugby League, Jarrad Hayne is 26. Recent Australian Boxing champion, Fred Mundraby is just 27. World number one Tennis player, Novak Djokovic is just 27, as is Andy Murray.
Phillip Hughes was taken too soon in so many ways. His legacy will be that of a cricket hero that the youth of today will try to look up to and emulate. He wasn't necessarily a hero to me as a cricketer – I still look to Allan Border, Viv Richards, Barry Richards – but he has become so to me as a human being who gave his all to everyone he could for such a short time.
His maiden test century in Durban, South Africa, of 115 announced him to the cricketing public in Australia, yet his 160 in the second innings of the same match announced him to the world. His 126 in a test match against Sri Lanka proved he still had the "right stuff" and his tail-end heroics with Ashton Agar at Trent Bridge to almost steal an unwinnable test match saw him score a mature and almost match winning 81 not out.
But he will be remembered for his incredibly symbolic 63 not out at the SCG this week when tragedy struck and took away the life of a fine young man who has touched the hearts of so many – myself included.
Rest In Peace, Phillip Hughes.