Multicultural Community Ambassadors – Catalysts for International Growth?
Thursday, December 04 2014 @ 11:28 pm ACDT
Contributed by: Wesley Hull
Views: 1,848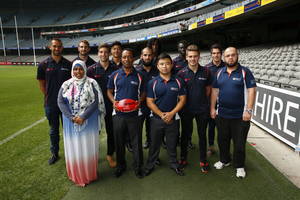 Having this week received both a recommendation and invitation to become a Multicultural Ambassador, I thought it prudent to brush up on information about their role and the wider aims of the AFL's Multicultural Program. Along the way it became clear that this concept, whilst no longer in its infancy, is still some way from its potential. It is entirely possible that the Multicultural Community Ambassadors could play a greater role in the wider uptake of the game internationally as well as here in Australia.
The AFL's own website features pages which detail both the Multicultural Program in its entirety as well as a brief about the role of the ambassadors. It says:
"The aim of the Australia Post AFL Multicultural Community Ambassador Program is to further engage multicultural communities in Australian football through a network of dedicated volunteers. The ambassadors will connect AFL staff with their particular communities and promote AFL activities as a vehicle for engagement and inclusion. The program will also provide community leaders with an official platform to become involved in the introduction and coordination of AFL related programs in their communities as well as opportunities for professional development."
In short, the ambassadors become the bridge which unites the multicultural communities with the AFL or, if you like, the game. They become a two-way link – not only do they take their training, involvement and understanding of the game out to their local or wider communities, they are also a conduit of information for the AFL as they develop plans and strategies for the future engagement of community groups with the game.
How does this link to the wider international sceneω One argument would be that as more people from a variety of multicultural, ethnic or other international groups take up the game within Australia the spillover to family, friends or other interested parties overseas will grow exponentially. A long bow to draw some might say, yet I can name three clubs in Melbourne that I have had associations with – Pakistan Shaheens, Masala Football Club and Southern Dragons – that are already in this position. All three clubs had links directly to the International Cup back in August. There are others.
The Australia Post AFL Multicultural Program is the umbrella under which the ambassadors operate. Again, the AFL website has this to say about the program:
"Australian football is becoming the sport of choice for diverse communities. Up to 25% of current AFL lists are from diverse backgrounds (11% Indigenous and 14% Multicultural).
The Multicultural Unit has been established to ensure Australian football is a vehicle that encourages community strengthening and inclusion within the wider Australian community.
The AFL's Multicultural programs are enabling more young talent to be identified and giving more opportunities to aspiring young AFL players."
Recently World Footy news ran a story detailing the Essendon Football Club's multicultural program within the nearby Indian Communities. The club also had a contingent of players visit India to help in the promotion and development of the game. It is not hard to visualise the links that as Multicultural Ambassadors link the AFL and communities together, the international clubs and organisations can work with that growth to possibly increase their own.
These figures from the AFL give some indication as to why the diverse multicultural groups across Australia are seen as a huge potential growth area for the game:
"Twenty percent of Australians were born in another country, of whom more than half came to Australia from non-English speaking nations. Combined with their Australian-born children, they constitute 43 percent of the population.
By 2025 overseas born families will outnumber locally born families and by 2049 Australia's population is expected to grow to 35 million, the majority of this increase will come from migrant sources. Two thirds will continue to come from Asian nations.
In 2009, the number of permanent and long-term migrants arriving in Australia has soared to more than 500,000 a year.
Multicultural Australians have economic clout. Their spending power has doubled since 1991 and is now over $58 billion a year.
Sydney and Melbourne more than 50% of the population is born overseas or has one or more parents born overseas."
There has to be some logic attached to that growth suggesting that the wiser Australian Rules football bodies worldwide could link with those communities to grow the game beyond Australia. Time will tell, but the Multicultural Ambassadors will become the front line in linking the game and the community together.
My own role, should my nomination be successful, would be much as it has been for many years: working with indigenous players from northern Australia and Torres Strait, as well as a burgeoning African community with families from Kenya, Sudan, Uganda and other nations settling in the region and seeing their kids take up the game. I look at it this way: If my role gets one kid to take up the game, then the game has one more player. Simplistic but true.
There is sure to be one reader, maybe more, who has considered the possibility of becoming a Multicultural Ambassador before. Well, join me and so many others by giving it a go. Let's see what change we can bring together as we provide the bridge between the game and the communities on whose support the game will grow.
Who knows how far we can goω
For more detailed information about the AFL's Multicultural Programs, click this link to the website: http://www.aflcommunityclub.com.au/index.phpωid=443