Bachar Houli program receives $200,000 grant
Monday, December 08 2014 @ 07:37 pm ACDT
Contributed by: Wesley Hull
Views: 1,468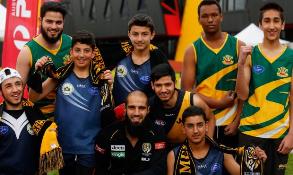 The following story from Jennifer Phelan at afl.com details the granting of funding to Richmond player, Bachar Houli, to allow his leadership academy for Islamic participants to develop and grow further. In keeping with the previous article looking at the Multicultural Community Programs initiated by the AFL, the Bachar Houli Program and Bachar Houli Leadership Academy represent further cultural advances as the AFL itself, and through individual initiatives such as these, which will continue the link between the game and the communities and cultural groups which embrace it.
Bachar Houli has received a $200,000 grant from the Australian government to help push the 'Bachar Houli Program' into western Sydney. This year, the program engaged more than 5000 participants from Islamic schools across the country.
In 2015, the national Bachar Houli Leadership Academy, based at Punt Road, will include 35 participants – up from 25 – and will further increase its encouragement and engagement with young Muslims aged between 14-17 across Australia. And, it will create another leadership academy in western Sydney, which will include a further 35 participants.
The Richmond defender admitted he had not forecast such growth in the program over the past three years but was excited by the challenge of working with youths who might not have been exposed to the game before. "To deal with 70 young men, I'm really looking forward to the challenge and really looking forward to seeing what they have to offer," Houli said on Monday, at the Islamic Museum of Australia in Melbourne.
"We're really prepared to provide them with the best opportunity, not only from a talent pathway but also from a leadership program perspective.
"This began as a Victorian based program and I thought, how big can this becomeω
"To my amazement, it has grown quite significantly within two or three years and to get the Government's support is outstanding.
"Some of these young boys [in western Sydney] have probably never played footy in their lives before.
"To see them get involved and show them what AFL is all about, we'll be there to offer them every single tool that they need to take it up as a sport, and also more importantly create great leadership within these young men."
Next season will see two more Muslim players join the AFL – Adam Saad, the VFL player rookied by Gold Coast last week, and Ahmed Saad, who will return to St Kilda after serving an 18-month banned substance suspension. Houli hopes youngster Hisham Kerbatieh – the winner of the Bachar Houli medal for his off and on-field performances this year – will also join the AFL fold in 12 months time.
"To see two of my mates – Adam and Ahmed – get back into the system is extraordinary," he said.
"From just one Muslim player in the AFL, now we've grown to three and hopefully next year we'll have one of the young boys joining us.
"I'm not putting too much pressure on the young fella but he's got so much talent."
Kerbatieh will train at Richmond next week as part of the program.
The Federal Attorney General, Senator The Hon. George Brandis QC, was on hand on Monday to announce the Government's contribution to the program's expansion. He said he had been inspired by Houli's leadership within the Muslim community and hoped the program continued to engage young athletes and encourage careers in the sport.
"The Australian government wants to work in close partnership with Australia's Muslim communities in order to ensure that the members of those communities – in particular the youth and the young men of those communities – feel a complete sense of belonging in the Australian community," Senator Brandis said.
"One of the best ways of reaching young men and youths is through sport and team sport in particular.
"I say that with some feeling as a former minister for sport and I know what a great thing it is to engage adolescents and young men in team sport."
Next year's program will also include Houli visiting Islamic schools across Australia, the Bachar Houli Cup held in four states and the AFL Ramadan Dinner in Victoria and western Sydney.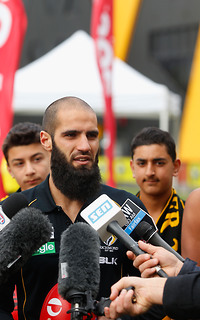 Pictures: afl.com