The Footy Almanac 2014 - Footy written by the fans
Tuesday, December 16 2014 @ 11:00 pm ACDT
Contributed by: Troy Thompson
Views: 2,405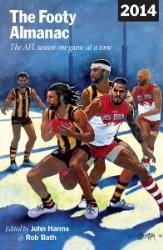 The Footy Almanac is a game by game account of every AFL match of the season. Over 150 shameless one-eyed writers tell the story of their day following the footy.
They are passionate fans. The result is a wonderful collection of footy writing: funny, insightful, one-eyed. They are from all walks of life and many varied locations, including international contributors. The contributions are selected by the editors from those submitted to the www.footyalmanac.com.au website during the season.

Some of the contributors giving the The Footy Almanac international flavour are Glen Brownstein from the USA, Peter Cresswell from NZ and Candian expat living in Australia Glen Mudie.

World Footy News scribe Prof. Stephen Alomes is a regular contributor to The Footy Almanac as well, his Round 5 Melbourne vs Gold Coast match report is featured and WFN editor Troy Thompson makes his Footy Almanac debut in this year's edition.
The book is over 500 pages of writing that is full of insight and humour in so many different styles.

Forewords for the 2014 Almanac are by musician James Keogh (Vance Joy) – fantastic essay celebrating footy. John Mosig – on Tommy Hafey, Yvette Wroby – on Lenny Hayes, Tom Martin – on Matt Spangher and editor John Harms's season review.

The book contains a report on every single game of the season, with multiple reports for the finals. In addition every player (and umpire) for the season has their jumper number, games and goals listed. A great for reference in years to come is the list of club Best and Fairests, the Coleman medal leading goalkickers and season summary tables and graphs for each club. All the scores, best players and Brownlow votes for each match are also there for the record.

The Footy Almanac 2014 sells for $35 (including postage in Australia).

Purchase and Payment options:
EFT (preferred option)
To Malarkey Publications
BSB 083166
AC 856905683 (please include your name and FA14)

Or cheque/money order to
Malarkey Publications
PO Box 1402
Fitzroy North Vic 3068
AFTER PAYING FOR YOUR BOOKS BY EFT, ALSO SEND YOUR POSTAL ADDRESS VIA EMAIL TO THE FOOTY ALMANAC.

You can also buy online at the following link http://www.footyalmanac.com.au/almanac-shop/buy-an-almanac/
For international orders; please email first to sales@footyalmanac.com.au to arrange shipping and payment options.