Africa – A Fertile Land For Football
Tuesday, June 09 2015 @ 12:45 pm ACST
Contributed by: Wesley Hull
Views: 2,426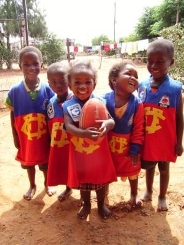 I just cannot shake the dream that lives somewhere in the back of my mind. It is an African city – maybe Johannesburg, maybe Nairobi, there is nothing specific. All I can visualise is grand stands full of cheering people – all African fans from whichever country the dream is set in, cheering wildly at a football match. We have all seen the image many times before, with the soccer teams pin-balling the play from one end to the other.
But the combatants here are not playing soccer. In this dream, hazy at times but very exciting, the half back flanker has just rebounded the ball out of the defensive fifty, hit the wingman lace-out on the chest with a daisy-cutter. The wingman has wheeled around and booted the ball to the goal square where the powerhouse, muscle-ridden full forward has taken a hangar over the pack and duly gone back and slotted the goal.
(Photo: Courtesy AFL Footywild)
In this dream the African fans are cheering the African players – at an Australian Rules match somewhere in Africa.
This may seem like the song from Man of La Mancha – The Impossible Dream – but ever so gradually there are signs appearing that one day at some undetermined point in the future the dream could possibly be realised.
Already the game is taking hold in various African communities across Australia. Even at my own club, Pyramid Power in Cairns, we have already played African kids from Sierra Leone, Uganda and Sudan. Across the Cairns league there are kids playing from those countries as well The "Majak" of Far North Queensland. From having no players of African descent 10 years ago, most clubs in Cairns have at least one player from an African nation.
Elsewhere across the nation this growth is more profound. Recent articles from Western Australia detail young players from African nations who are making their mark on the game (Bella's story - http://wafootball.com.au/news/8214/bella-recognised-for-breaking-down-barriers ).
The following extract is from an article on the SBS website by Rhiannon Elston and explores the journey of Masange Runezerwa's journey from the Democratic Republic Of Congo to the footy fields of Wodonga in Victoria:
Running has always been part of Masange Runezerwa's life.
He ran while growing up in the Democratic Republic of Congo.
He ran in Kenya, where he went to escape conflict in his home country.
And when he arrived in Australia 18 months ago, he surprised the local running club one evening in Wodonga, Victoria, along the New South Wales border.
Nadia Mellor, of the Wodonga Athletics Club, remembers the night he showed up unannounced to join in with training.
"He had nothing, he'd only been in Australia for a few weeks," she says.
"Members of the club went and bought him some gear – some running shoes, a t-shirt and some shorts and a singlet.
"Then Wodonga Athletics Club took him on board and gave him membership and gave him a club singlet and invited him to all of our training sessions and athletics meets."
Before long, Masange Runezerwa was running in long-distance competitions across the region.
And he was winning them, Mellor says.
"He's an amazing runner. I think, for the Wangaratta half-marathon, he ran about 72 minutes, if I remember correctly, and, even with that, he ran probably a kilometre longer than he should have -- he got lost."
It was his speed and endurance that led Runezerwa to a sport he had never heard of before arriving in Australia: Aussie Rules football.
To read Rhiannon's full story, go to: http://www.sbs.com.au/news/article/2015/06/08/democratic-republic-congo-afl
During 2012 the game of Australian Rules football became the catalyst in bringing together youth of both aboriginal and African descent that had been locked in social conflicts. Inspired in part by Darwin lad Patrick Taban, of Ugandan birth (see story: http://www.theage.com.au/afl/a-new-game-20140516-384bh.html ) youths from both cultural groups came together in a shared love of the game. The article by Stuart Rintoul in The Age is a fascinating account of that story.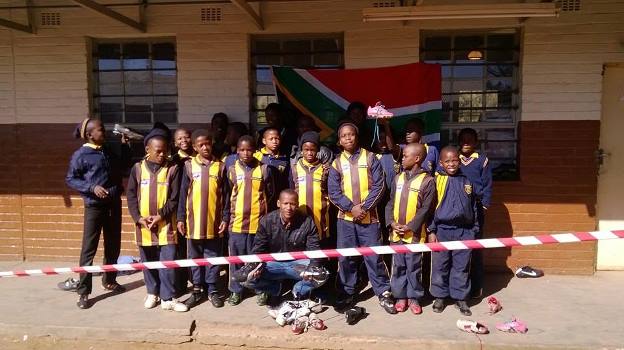 (Picture: Bodibe team in new jumpers - South Africa)
Recently in Cairns the All Nations Cup was held in conjunction with the Kickstart Cup to form the wider AFL National Diversity Cup. It was a delight, and a welcome eye-opener, to see how many African teenagers were scattered across the state teams – and how many of those looked capable enough to become the next Majak Daw or Aliir Aliir and find their way onto the playing lists of national AFL teams.
But even in countries across Africa the seeds are slowly sprouting. The recent expansion in clubs across South Africa was a positive step which, despite a number of racial, economic, geographic and cultural setbacks Triumph over adversity – The spirit of our game.. The competition around Cape Town grew to eight clubs in 2014 as AFL Footywild (AFL South Africa) worked to provide more playing options in a re-branding of the game locally. Time will tell how successful that will be, but the fact that there is growth at all is a positive sign and one that can be developed further.
There have also been signs of growth across Kenya. Last year a match, which is becoming an annual fixture, was played between teams from Kenya and Tanzania Buffalo soldiers: Kenyans beat Tanzanians in historic match orchestrated and organised by Tom Purcell. Also in Kenya, Don Cruttenden, a teacher at the Greesteds International School in Nakuru (Kenya's fourth largest city), has been developing the game at a local school level and expanding into nearby cities and communities such as Eldoret and Iten. Kenyan Horizons These two men have overseen a growth in Kenyan footy which is putting East Africa on the footy stage to accompany what is happening down in South Africa.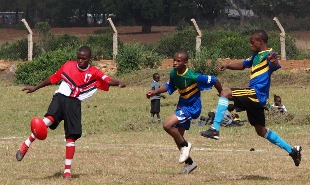 But with players coming from countries all across the length and breadth of Africa to play in Australia as part of their new immigrant life, the connections to the game back in Africa will grow by degrees.
My strange little dream, which invades my subconscious in the wee small hours of a night, may seem like folly to some. But through the efforts of people both in Australia and across Africa it is not such an impossible dream.
A long, long way from happeningω Yes. Impossibleω No.