Saturday, August 28 2021 @ 09:49 am ACST
Contributed by: Wesley Hull
Views: 3,444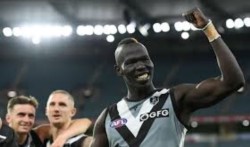 When Port Adelaide defender, Aliir Aliir, was named as Centre Half Back in the 2021 All-Australian team last week, it signalled a new dawn in footy. Not only had the brilliant defender arrived as an immense talent – and possibly a lynch-pin for a sustained era of success at Port Adelaide – he also became the player who once and for all sent a message to all aspiring African-heritage kids that they can follow him to succeed: whether they be from Sudan, Kenya, Uganda, Zimbabwe or any other African nation.
The seeds were sown when in 2014 North Melbourne took a risk on Majak Daw (even though Aliir was drafted the previous year). With a physique that left one in fear, but without the tank to match sometimes, Majak was a pioneer for players of African descent – most especially the generation of kids who had families flee from war-torn nations like Sudan and resettled in a strange new environment with an equally strange national game.
(Picture Credit: AFL Queensland)