Monday, February 19 2018 @ 04:58 pm ACDT
Contributed by: Wesley Hull
Views: 2,765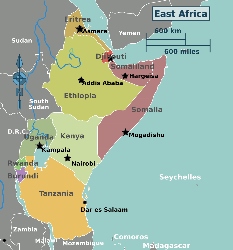 There is a football revolution growing quietly, yet purposefully, across East African nations. Whilst most clubs and leagues outside of Australia grow from club to region to nation (or something similar), the growth across some African nations has been the opposite. National teams growing and filtering down to more localised growth. It is unique, and just possibly a blueprint for others to follow. To achieve it, the key pillars are a love of sport – any sport – and a liberal sprinkling of desire, determination, dedication, unity and faith.
Tom Purcell is not the only person to have driven this remarkable growth – a growth that sees teams from Kenya, Tanzania and Uganda competing already and may soon add South Sudan and Rwanda. He works with a huge group people – ministers, teachers, students and so many others – to bring together an amazing sporting achievement. Tom was happy, however, for an interview to discuss the many aspects involved in one of Australian football's most remarkable footholds.
Picture Credit: Wikivoyage