Sunday, February 04 2018 @ 09:40 pm ACDT
Contributed by: Wesley Hull
Views: 2,753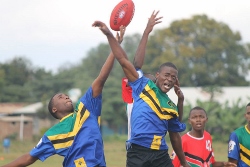 Through the passion and drive of people like Tommy Purcell and his team, Australian Rules football is continuing to make headway in growing across a growing number of African nations. Back in 2014 matches were being played between teams from both Kenya and Tanzania. That competition has now grown to include Uganda in a three-nation rivalry.
In July the next instalment of the tournaments will take place when the Kenya Buffaloes, Tanzania Simbas and Uganda Simbis meet at the Brother Beausang Catholic Education Centre in Embulbul, 20 kilometres to the east of the Kenyan capital, Nairobi.