Tuesday, June 24 2014 @ 10:29 pm ACST
Contributed by: Wesley Hull
Views: 2,806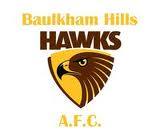 Gab Donnelly has spent a fair bit of time recently lurking around her local post office with large parcels. In her role as treasurer with the Baulkham Hills Hawks juniors in the north west suburbs of Sydney, Gab has been answering the call of their Cairns based "brothers" and sending footy boots and jumpers to all parts of the world to help kids and youth to keep playing our game.
The most recent example is the sending of some club jumpers to the Bodibe club, a city 250 kilometres west of Johannesburg in South Africa. This follows on from their extraordinary gesture of donating a set of 20 jumpers to the Salamanda Port Powers team in Lae, Papua New Guinea, and another donation of a jumper to the North Delta junior club in Vancouver, Canada. They also sent a small set of jumpers to the Pyramid Power club in Cairns to help promote the Brother Clubs Project.
At this rate the club may run out of jumpers before long. But not heart.