Thursday, July 31 2014 @ 10:57 pm ACST
Contributed by: Wesley Hull
Views: 2,206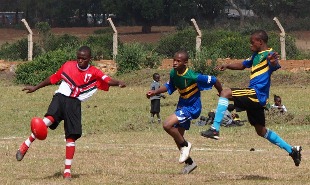 YOUNG boys leapt for joy while others leant on their knees in the worn paddock in the middle of the Nairobi township of Embulbul.

The final whistle had blown and the first international game of Australian football between African nations was over. Were there really any losers?

The historic match between players representing Kenya and Tanzania took place in late June in Nairobi, thanks to outreach organisation Zimele and its founder Tom Purcell, a senior teacher at Melbourne's St Kevin's College.

Since Purcell first visited Africa seven years ago, he has dreamt of establishing a sporting exchange between the neighbouring countries, but a lack of financial support and tricky logistics forced him to be extremely patient. However patience comes naturally to a busy, full-time working father of 10, as does persistence, and this year it all paid off.