Monday, August 24 2015 @ 02:55 pm ACST
Contributed by: Wesley Hull
Views: 2,101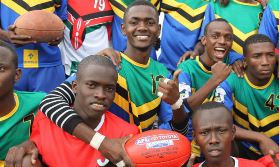 The following story  from the AFL website by Conor Walsh looks at the recent match played in Tanzania for the first time against a team from Kenya.
PLUMES of dust, jagged volcanic rocks, cows and low-flying planes set the scene for one of the most unlikely of Australian football games, played out on a rough African field.
But add a tight tussle and a last-gasp hero, and you have all the elements for a classic.
The match, held on a sometimes wet and always wild day in June in Arusha, Tanzania, was tightly contested by Tanzanian and Kenyan schoolboys on a field at the foot of imposing Mt Meru.
It was the first international Australian football match in the country and the second annual match of the Zimele Sporting Exchange, established by Australian educator Tom Purcell.