Incredible Journeys From Africa To Australian Football
Monday, July 06 2015 @ 11:26 am ACST
Contributed by: Wesley Hull
Views: 1,942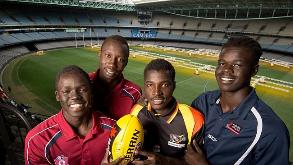 The following story is a fascinating, in depth account by Sam Landsberger at the Herald Sun newspaper exploring the paths of four young African footballers. Sam starts with the story of Gach Nyuon (Sudan) before moving on to the stories of Maibor Chol (Sudan/Egypt), Patrick Taban (Uganda) and Rueben William (Kenya). They are amazing stories of courage, freedom and ultimately their journey to football.
This story adds further to the recent look at the journey of Sydney Swans player Aliir Aliir, drafted last year Sudan To Sydney Swans: Aliir Aliir's Journey Continues and the success of North Melbourne footballer Majak Daw, selected again for a senior game last weekend.
Gach Nyuon's long journey from Africa to potential AFL draftee
(Picture: Jay Town, Herald Sun)
Four boys from Sudanese families have trekked through war-torn countries and survived refugee camps before arriving in Australia and falling in love with footy.
One saw an attempted kidnapping of his baby brother and another has more than 70 siblings, owing to his assassinated father's 12 wives.
Sam Landsberger talks to four young men who have taken refuge in the AFL ahead of this year's national draft.
GACH NYUON
Sudanese refugee Gach Nyuon has more than 73 brothers and sisters.
His mother's husband, William Nyuon Bany, had 12 wives and was assassinated in 1996, before Gach was born.
Nyuon and his family fled war-torn Sudan when he was 10 months old and survived refugee camps in Ethiopia and Kenya before escaping to Melbourne when he was seven
He lives with him mother, three brothers and one sister in Keysborough and has a step mum in Doveton, a step mum and two brothers in Perth and a step mum, brother and sister in South Australia.
The rest of his family are spread throughout the United States, Canada, Asia, Sudan and other countries.
"My dad had 12 wives. I just know he had over 73 kids but I only know the ones in Australia," Nyuon said.
Bany, who Gach classifies as his father, was a southern Sudanese politician, a high-ranking military officer in The Sudan People's Liberation Army and a patriot who pushed for freedom.
On Friday, Nyuon was again the dominant ruckman in Vic Country's clean-sweep of the under-18 championship as his raw football journey continued to build momentum.
On Saturday, Nyuon became the first Sudanese talent to win Under-18 All-Australian selection 20 years after the championships began.
"No doubt this is a glimpse into the future of the AFL," AFL talent boss Kevin Sheehan noted.
It is a journey incomprehensible to teammates and the football world but one suddenly on track for the biggest stage.
"At the start of the year I would have said he was a mile off it," an AFL recruiter told the Herald Sun.
"But his improvement has been amazing. He could be the best ruck prospect in the draft."
At 201cm and 81kg, Nyuon can run fast, leap high and kick the ball well for a big bloke.
To read the fascinating full story by Sam Landsberger, click on to the following link for the Herald Sun: http://www.heraldsun.com.au/sport/afl/afl-draft-2015-gach-nyuons-long-journey-from-africa-to-potential-afl-draftee/story-fni5f22o-1227428317321
(Pictures: Rueben William, Patrick Taban, Mabior Chol – Colleen Petch, Herald Sun)