Majak Back
Tuesday, July 02 2019 @ 11:52 am ACST
Contributed by: Wesley Hull
Views: 1,758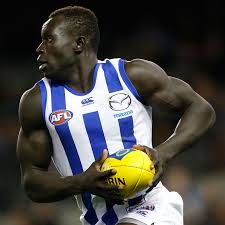 When Majak Daw was rookie-listed by North Melbourne back in 2010, he kicked open the door for other players from African nation backgrounds to follow. Born in Khartoum, Sudan and a refugee to Egypt before travelling with his family to Australia, Majak became the first AFL player of Sudanese origin.
In his wake, others like Aliir Aliir (Kenya to Sydney Swans) and Mabior Chol (South Sudan to Richmond) play senior AFL football now. Others have been and gone, and some still wait in the wings – other players of African nation descent want to follow. However, all owe a debt of gratitude to Majak Daw the trailblazer.
This is what makes his accident last December so profound. When emergency services rescued Majak from the base of the Bolte Bridge in Melbourne, with a broken pelvis and hip, it seemed his playing days may be over – at least at the elite level.
With his own dream potentially shattered, so too might be the dreams of those who held Majak as their hero.
But Majak Daw is made of sterner stuff, and his probable return to the VFL this weekend for North Melbourne – just seven months after his terrible fall – continues a story of determination and bloody-mindedness that has seen him survive bigger things in his life.
According to Damien Barrett's and Marc McGowan's story on the
www.afl.com.au
website, Majak states that "I'm pretty excited. I kind of wish the game was tomorrow. I suppose I've been waiting for this moment for a long time."
"There's been a lot of work that's gone in to get me to this point, but I can't wait for Sunday."
"It's been pretty tough getting my body strong again. Believe it or not, I'm stronger than I've ever been."
"But knowing the expectation, and how hard it was going to be to get back, that was something I wanted to do (and) I'm almost there now."
After a breakout season in 2018 when Majak moved to defence and played 18 games – his career best – and reached the 50 game milestone for the Kangaroos, the events of December could have ended his AFL career.
But Daw is confident that he will return, and he is "really comfortable in knowing I'll play AFL footy again".
If he does, it will be an extraordinary comeback for Daw, and a great story for not just African football but football in general. Those who already see daw as their hero and role model will have even more reason to be inspired by his deeds.