McLachlan To Pursue Multicultural And Indigenous Player Plan For AFL
Wednesday, August 19 2015 @ 10:59 pm ACST
Contributed by: Wesley Hull
Views: 1,180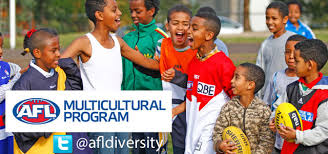 Following on from yesterday's lucrative broadcast deals for the AFL, Chief Executive Gillon McLachlan announced at the National Press Club in Canberra a potential scheme to help develop and grow the game of Australian Rules football further. By looking towards a more focused development of multicultural and indigenous communities, McLachlan can visualise an idea where all existing AFL clubs buy into a "zoning" program to develop their own markets.
Similar in some ways to the zoning of Victoria in days gone by, just on a national scale, the idea certainly may have ramifications for the further tapping of indigenous talent across the country. It may also be a huge step towards the genuine development of player talent across a spread of multicultural communities nationwide which might see greater numbers of players from all over the world embrace the game. What might start small may one day grow into an enormous pool of future talent.
The following article is from the ABC News website and details McLachlan's vision which, if funding and his own drive have anything to do with it, may take off in some form in the very near future.
AFL boss Gillon McLachlan says game will grow by targetting multicultural and indigenous communities
AFL chief executive Gillon McLachlan has made a bold pitch to strengthen the game's place as Australia's number one sport by targeting the next generation of talent within multicultural and indigenous communities.
Armed with a $2.5 billion war chest from a newly signed broadcast deal, McLachlan has unveiled how he wants to achieve it.
Addressing the National Press Club in Canberra a day after signing the richest broadcast deal in the history of Australian sport, McLachlan said "radical" proposals - including a new zoning system supported by new funds - are currently before clubs to deepen the code's place as the number one sport in the country.
"Australia is changing and if we want to continue to be Australia's game, we need to change too," he said.
"While we can be proud of our history ... it doesn't mean we own the future."
In the seat of Australia's parliament, McLachlan likened the struggle for sporting talent and support to that of a fiercely-fought marginal seats political campaign.
With over $300 million invested in AFL clubs and training facilities, and thousands of people working within the AFL system, McLachlan said the sport needed to win over non-traditional AFL fans and talent.
"We have a machine and we need to pivot and focus on new and emerging communities," he said.
"After a positive discussion with the (AFL) commission, the AFL has also received support from our club CEOs to examine a new zoning system where a region is assigned to each club and the clubs are empowered and funded to develop talent and recruit in indigenous or multicultural communities.
"It would mean carving up areas in our suburbs, inner and outer, (and) regional communities, for clubs to grow their talent base and ultimately their support base.
"The talent developed in those zones will be available to clubs through a priority draft bidding system."
McLachlan said potential young players needed "heroes" they could relate to and looked like them.
"Our game needs to be able to tell stories that all Australians can recognise, men and women, kids and families have arrived here from Sudan, from China, from India, from wherever," he said.
"It must be their story too."
In a reflective address, with many politicians and power-brokers in the room, McLachlan paid tribute to the contribution of indigenous Australia to the sport.
"We created a place where indigenous Australia can be accepted, not just by mimicking white Australia but by bringing something unique that enriches our game as a whole," he said.
"This is still a work in progress but it's profitable to look back and see how far we've come."
On Tuesday, the AFL signed a six-year $2.508 billion broadcast deal with Channel Seven, News Corp and Telstra.