The AFL on international footy 2015 - an in-depth interview
Wednesday, August 26 2015 @ 01:22 am ACST
Contributed by: Brett Northey
Views: 1,938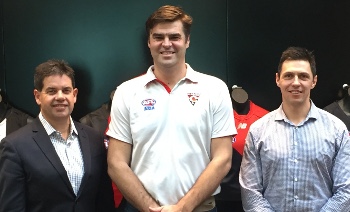 Australian football has undergone steady and at times impressive growth around the world over the last decade or so. This is mostly but not entirely started by expatriate Australians who sow some seeds and then either tend to them or have enthusiastic locals continue the experiment.
But another important player in this is the Australian Football League. For some countries their contact has been negligible, but for most it has been useful and at times a strong source of encouragement, funds or other support. And every three years the AFL's contribution is at its most visible in the form of the International Cup. Given their importance as the catalyst with most potential to drive rapid growth it's always good to try to understand the role the AFL sees for itself, who the main people are and how they fit into the larger AFL administrative body itself. This is our first update on that front for several years.
Grant Williams and the AFL international structure
With many changes in recent years worldfootynews.com thought it timely to catch up with a key figure in Grant Williams, AFL General Manager Community Football Operations. Grant is pictured far left with AFL colleague Pete Romaniw (right) and former AFL Asia interim President Grant Keys (centre). We started by asking him where he fits into the international scene and where he'd like to see it go.
Grant Williams, "My role involves supporting our state bodies and international affiliates in their efforts to develop, manage and grow the game of Australian football which includes providing access to resources and expertise within AFL House to form stronger links".
"(I have) Experienced the last 3 International Cups, have seen the World Team and South Pacific Team play in U16 National Champs and also visited South Africa where I was lucky enough to experience the Footy Wild program in action. Generally, like to see the game grow and spread around the globe but also see existing competitions and programs in countries like New Zealand, the USA, South Africa, PNG and Europe consolidate in the interests of broader local acceptance of the game including the International Combines (to test talent athletes) now run in Ireland, New Zealand and the USA".
The AFL's position on international football was probably at best unclear to most in the international community prior to the stewardship of David Matthews as AFL General Manager of Game Development through roughly the first decade of this century. Under Matthews there were several restructures, significant steps forward and a much more bullish public presence – a sense of trying to show vision in bringing the Australian football public on the international growth journey. Even his title changed to reflect this commitment, as the AFL's National and International Development Manager. Concern over Matthews' departure to become CEO of GWS Giants in 2011 was alleviated by the 2010 appointment of former AFL player Tony Woods to the full time role of AFL International Development Manager. Woods brought the highest profile yet to the role, but somewhat obscured in the excitement leading in to the 2014 International Cup was Woods' resignation and the abolition of his position. Grant Williams assures us this was not a backward step.
Grant Williams, "Following Tony's departure we took the opportunity to modify the way responsibilities for the AFL's International activities were split across the business. Aspects of the International portfolio have been spread over different departments within the business including commercial operations, marketing, football operations and AFL Media. In terms of participation, Pete Romaniw provides day to day operational support to our International affiliates and oversees the work of Ben Drew (AFL Development Officer – Pacific) in the Pacific region. I play a coordination role within the AFL to bring the efforts from within various departments together including directly overseeing Pete and his work with the affiliates on participation".
"Pete is now full time focused on our International affiliates. The responsibility includes managing our annual Grants program and he works particularly closely with many regions including but not limited to AFLNZ, AFLSA, USAFL and AFL Europe. Ben Drew who oversees activities in PNG and the South Pacific also reports into Pete. We have also focused on developing stronger ties with Canada, China, India and Asia more broadly. Pete works closely with the key representatives from the various countries to support their efforts to grow, coordinate and promote the game internationally".
"Pete also works with other internal AFL departments to facilitate access to different expertise within the building for international affiliates. This is done in a variety of ways including the Watch AFL program whereby affiliates can raise revenue through sales, AFL Queensland and the AFL in the South Pacific becoming more aligned to improve the talent pathway opportunity. The U16 South Pacific team competed in the AFL Qld U16 championships with players eligible to be selected for Qld U16 state team which competes in the NAB AFL U16 Championships. We also work closely with our government relations and talent teams".
"He also liaises with Australian Government departments and representatives to assist in supporting our international programs. We also provide significant in-kind support (equipment, apparel, etc.) for many projects being run by community organisations, schools, etc".
"There are numerous people within the AFL that from time to time support Pete and I across the international portfolio these include Kevin Sheahan and Mick Ablett in Talent. We have internal work groups in many other areas that cover some of our international projects including St Kilda's NZ games".
South Pacific arrangements
On the topic of the Pacific region we'd heard disquiet that programs may be wound back following the departure of Andrew Cadzow, a long serving asset to the game most recently running AFL Asia Pacific.
Grant Williams, "We still provide very similar levels of support to the region, with Ben Drew overseeing the programs with guidance and support from Pete and I at AFL House. Ben manages our South Pacific development activities with the various local groups/operators like AFL PNG, AFL Fiji, etc. He manages activities in PNG where we provide the majority of the funding, along with activities in Fiji, Samoa, Vanuatu, Nauru, Tonga, Vanuatu, Solomon Islands who all have varying levels of football participation. The South Pacific team competing in the AFL Qld U16 State Championships is just one example of the AFL's support of football in this region".
New Zealand a focus?
Noting this interview was conducted shortly before AFL CEO Gillon McLachlan's encouraging comments about New Zealand, we asked several questions about St Kilda and the AFL's intentions there, starting with trying to find out whether St Kilda followed through on their commitment to place two full time development officers in Wellington to grow the game around their annual match.
Grant Williams, "St Kilda FC have a project manager who manages their NZ partnership/relationship with the stakeholders involved including the AFL, AFLNZ, the Wellington City Council, NZ Government agencies, etc."
The Saints aren't the only club with a toe in Kiwi waters, with the Hawks Cup played across high schools supported by Hawthorn. With New Zealand's proximity, access to ovals and cultural similarities to Australia, this author has long hoped the AFL might look to accelerate development with a view to one day fielding an NZ AFL club one day. Alas, a straight bat there.
Grant Williams, "At the moment, operationally we are focused on supporting a game played for points in NZ in the foreseeable future".
Given our understanding that the support of AFL New Zealand (in a previous form) and key supporters and the AFL were important factors that saw the Westpac Stadium in Wellington constructed as suitable for Australian football, and Auckland being the major population centre, we asked whether the AFL was keeping eye on any such opportunities in Auckland.
Grant Williams, "There is talk of a stadium being developed/built in Auckland which will potentially have the capability to host AFL matches, only early days on this possibility though".
AFL club football department spending and any key AFL targets?
AFL support for international development can come from both the AFL itself or from its clubs. This author personally thinks the recent cap on football department spending was healthy because it seemed like an arms race in a civil war - there's no outside international opponent for Australia to defeat, so spending millions on reducing recovery times by a few days or hours or the latest in video analysis doesn't seem to be the best way to spend the game's bounty when the clubs have debts, the players want an increase, community football is crying out for more help and there are major challenges from other sports. With such an arms race continuing there would never be significant money left over for community football or an international focus, no matter how large future media rights deals may be. On the other hand if club international spending, already small, is included in the new cap, that may dissuade them from pursuing risky international experiments at all.
Grant Williams, "You are correct that currently club spending on international development is relatively small. Having said that a number of clubs have partnerships with international companies and some are increasingly showing interest in development type activities. For example, Port Adelaide supports participation initiatives and competitions in southern China. As to whether any AFL club investment is included or not in the soft cap depends on whether the spend is directly classified as a football department or community department spend".
And if not the clubs could we see a time when the AFL sees an international project where they would kick in significant money if they thought it could really have a major impact in growing the game quickly somewhere?
Grant Williams, "Any decision regarding funding increases for international development initiatives or grants is a decision for the AFL Commission and Executive. However, in recent years the AFL's overall investment in international football development and other events/initiatives has increased including investment in the game in NZ for Premiership points, expansion of the talent Combines and the development of the Watch AFL product".
The million dollar question is always how much the AFL spends directly on international footy and whether a significant boost is warranted or likely, and this remains closely held information. Note this interview was conducted just prior to the $2.508 billion media rights deal for 2017-2022 that was recently sealed earlier than industry watchers expected.
Grant Williams, "Funding priorities/requirements and related plans for the AFL's next 5 year investment cycle for 2017 to 2021 will be developed in the next 6-12 months and our International investment will be appropriately and suitably considered".
Europe and Asia
The move by European countries in to form AFL Europe seems to have been a success in the 5 years (initially as the European Australian Football Association) it has been running. The AFL funds the full time AFL Europe CEO position, but for how long and does the recent departure of Ben MacCormack see a change?
Grant Williams, "We continue to provide support to AFL Europe annually. The establishment work that has been done most recently by Chris Dow and his AFL Europe Board along with the former CEO, Ben MacCormack, has been fantastic. Megan Hession has just been appointed the new CEO of AFL Europe".
Leagues and clubs established AFL Asia in 2013. Is there any formal relationship with the AFL? Could we see an AFL Europe type arrangement be made?
Grant Williams, "In terms of Asia, we support various projects in the regions, both financially and with in-kind support. For example, we support the employment of a full time local employee in China to assist with development. AFL Asia do not have a formal affiliation, however we do have regular contact and dialogue with representatives of Asian football and strive to provide guidance and assistance where possible and when asked".
Seeding the game and African expansion
The AFL has traditionally waited for established leagues or clubs to approach them, but would they consider trying to seed the game in emerging economies? Areas like Mexico and South America are seen as emerging economic tigers of the 21st century, but there's little footy development there and yet to be any formal connection with the AFL. Wouldn't it be smart to try to ride the wave with some targeted investment?
Grant Williams, "We do have a finite budget/resources and it is difficult to invest in every market. We will continue to try to be innovative and support (where we can by providing resources, etc.) the dedicated volunteers that are willing to support the game in the many places where we don't make a direct financial investment. The challenge in areas such as Mexico and South America is that it would require significant investment and resources to have any meaningful impact".
And on to Africa. At one stage South Africa were seen as the golden child of international football, and although progress continues to me made it appears some of the most exciting initiatives that were mooted a few years ago have not eventuated. There was talk about 5 years ago of a University program being set up in South Africa which would be a launching pad into the rest of the continent. Since then there's been some good consolidation and a lot more locals employed in the game which is very pleasing but almost no talk of expansion within South Africa or to other countries. It seems the rest of Africa, and South America, are off the radar. And on that point, former AFL Commissioner and football visionary and current Geelong President Colin Carter has pleaded with the AFL Commission to invest heavily in South Africa in the order of $2 million annually to make a leap forward. Did that cause some interest in the international footy department?
Grant Williams, "Having influential advocates that see the potential for the growth and development of international football is positive. Pete and I will continue to work with the AFL Executive in setting the direction for our international plans and investment which ultimately need sign off from the AFL Commission. We have made some significant steps forward in terms of international football in recent times in a number of areas including playing matches abroad for Premiership points, the expansion and development of the talent pathway programs, 2014 saw the largest International Cup played and growth of the Watch AFL program. AFL Clubs are also showing increasing interest in becoming more engaged internationally. There are still a large number avenues which need to be explored and we are open to exploring new opportunities and initiatives. We are mindful however that to ensure sustainable growth, we need take a considered, measured and responsible approach with our plans and investment".
Thanks to Grant for the extensive interview. On the one hand it demonstrates an active engagement on many fronts and on the other there's still not that grand, well funded vision that so many of us crave. Given the comments by AFL CEO Gillon McLachlan soon after this interview was conducted, confirming ongoing support across grass roots international footy but also hinting at some targeted areas, perhaps we'll start to see grander plans over the course of the next media deal. We watch with interest.