Racism. It Stops With Me
Sunday, February 21 2016 @ 10:15 am ACDT
Contributed by: Wesley Hull
Views: 1,621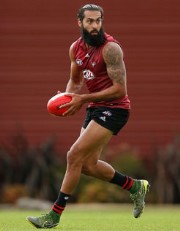 The following story from the Essendon Football Club website details the club's support for the "Racism. It Stops With Me" campaign. Heading the push on behalf of the club is Cairns born Bomber, Courtney Dempsey, who played junior football here in the northern city for Manunda Hawks.
As a coach of another Cairns-based club which has 92% indigenous players, I also strongly support this initiative. Having coached from Under 14 to Under 18 age groups at the Pyramid Power club, and though schools since 2001, I have personally seen, and been directly involved in, the  ugly, damaging side of racism. Not all people are racist. The overwhelming majority of supporters at local level are people with the knowledge of, and acceptance of difference. But the damage done by a bigoted minority can be devastating, and I have sadly dealt with this personally and do not want to again.
Thank you to the Essendon Football Club for this article.
Essendon Football Club is proud to have joined forces with more than 315 of Australia's leading businesses, sporting bodies and NGO's to support the 'Racism. It Stops With Me' campaign.
Essendon Football Club CEO, Xavier Campbell, said the Club has a long-standing commitment to stamp out racism.
"Any form of racism is unacceptable. Cultural diversity is central to our national identity, however the reality is that racism still exists and too many people experience prejudice, discrimination and racism on a regular basis.
"Tackling racism is by no means a simple task, and as we have seen recently in the AFL community we still have a long way to go, but hopefully in taking a public stance against it, we can also encourage others to do so."
Essendon Indigenous star Courtenay Dempsey, who was racially vilified on social media last year, is supporting the campaign.
"Racism shouldn't be happening in this day and age. People need to understand the impact it can have on the individuals involved," Dempsey said.
"I was deeply disappointed by the events of last year and it was really upsetting for my family and friends. We are all human beings and we have feelings.
""We need to continually educate people in our society about racism and promote understanding and respect. I'm glad I can be part of this campaign and that the Club has decided to join the initiative."
The national 'Racism. It Stops With Me' campaign, led by the Australian Human Rights Commission as a key initiative of the National Anti-Racism Strategy launched in 2012, aims to ensure more Australians recognise that racism is unacceptable in our community.
Race Discrimination Commissioner, Dr Tim Soutphommasane, said he welcomed the Club's support for the national initiative.
"It is great to see Essendon playing a leading role in the campaign against racism," Dr Soutphommasane said.
"Essendon players and supporters are sending a powerful message that it's not OK to be racist."
Courtenay Dempsey said he was looking forward to the opportunity to contributing to the fight against racial discrimination and the Club's long-standing commitment to embracing diversity.
"Racism ultimately works against our goal of building a fair and inclusive community. It is our priority to be a leader in promoting understanding and respect, so I'm glad I can be part of this step towards the Club achieving this."
In my own role as an Australia Post Multicultural Community Ambassador here in Cairns I am trying to spread the message that Australian Rules football is a game for all to embrace. Racism cuts across the impact of this message and everything that can be done to eradicate racism should be. Our game is growing across many multicultural markets – the weekend's NAB Challenge matches featured players from indigenous, African, European and American markets. For that to continue, racism must be addressed and removed to a point where it can no longer damage.
Original article can be viewed at: www.essendonfc.com.au/news/2016-02-19/racism-it-stops-with-me