2016 NAB Challenge International Broadcast Schedule: Week 3
Wednesday, March 02 2016 @ 01:10 pm ACDT
Contributed by: Troy Thompson
Views: 1,447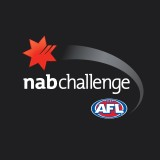 Week 3 of the 2016 NAB Challenge starts tomorrow night when the West Coast Eagles take on the Gold Coast SUNS at HBF Arena in Joondalup, Western Australia.
This week sees regional and suburban football grounds host pre-season matches for the last time before the fourth and final week of the 2016 NAB Challenge sees matches staged at metropolitan venues to maximise team preparations ahead of the Toyota AFL Premiership Season.
The first of the 2016 Women's Exhibition Series matches will occur on Sunday March 6 at Highgate Recreation Reserve in Craigieburn when the Western Bulldogs play Melbourne at 5:10pm EDT. The match will be broadcast live on Crocmedia via www.afl.com.au and is a non-ticketed event, meaning fans can stay in the venue following the NAB Challenge match or gain FREE entry at the conclusion of that match.
| GAME | DATE | TIMESLOT | MATCH | VENUE | STATE | LOCAL TIME | GMT | NETWORK |
| --- | --- | --- | --- | --- | --- | --- | --- | --- |
| 1 | 3/02/2016 | Night | West Coast Eagles vs. Gold Coast SUNS | HBF Arena | WA | 16:10 | 08:10 | FOX FOOTY |
| 2 | 4/02/2016 | Night | Sydney Swans vs. GWS GIANTS | Drummoyne Oval | NSW | 19:10 | 08:10 | FOX FOOTY |
| 3 | 5/02/2016 | Day | Essendon vs. Geelong Cats | Deakin Reserve | VIC | 14:05 | 03:05 | FOX FOOTY |
| 4 | 5/02/2016 | Twilight | North Melbourne vs. Collingwood | Robertson Oval | NSW | 16:40 | 05:40 | FOX FOOTY |
| 5 | 6/02/2016 | Day | Western Bulldogs vs. Melbourne | Highgate Reserve | VIC | 14:05 | 03:05 | FOX FOOTY |
| 6 | 6/02/2016 | Twilight | Brisbane Lions vs. St Kilda | Harrup Park | QLD | 15:40 | 05:40 | FOX FOOTY |
| TERRITORY/NETWORK | GAME 1 | GAME 2 | GAME 3 | GAME 4 | GAME 5 | GAME 6 |
| --- | --- | --- | --- | --- | --- | --- |
| AUSTRALIA PLUS | | | | | | |
| Asia | - | 4/3 @ 16:00 HKT (Live) | - | 5/3 @ 13:30 HKT (Live) | - | 6/3 @ 13:30 HKT (Live) |
| Pacific | - | 4/3 @ 20:00 Fiji (Live) | - | 5/3 @ 17:30 Fiji (Live) | - | 6/3 @ 17:30 Fiji (Live) |
| India | - | 4/3 @ 13:30 IND (Live) | - | 5/3 @ 11:00 IND (Live) | - | 6/3 @ 11:00 IND (Live) |
| ESPN - BT SPORT | | | | | | |
| UK & Ireland | 3/3 @ 08:00 GMT (Live) | 4/3 @ 08:00 GMT (Live) | 5/3 @ 03:00 GMT (Live) | 5/3 @ 05:30 GMT (Live) | 7/3 @ 13:00 GMT (Delay) | 7/3 @ 15:00 GMT (Delay) |
| FOX SOCCER PLUS | | | | | | |
| USA | 3/3 @ 03:00 ET (Live) | 4/3 @ 03:00 ET (Live) | 4/3 @ 22:00 ET (Live) | 5/3 @ 00:30 ET (Live) | 5/3@ 22:00 ET (Live) | 6/3@ 00:30 ET (Live) |
| ORBIT SHOWTIME NETWORK | | | | | | |
| Middle East | 3/3 @ 08:00 GMT (Live) | 4/3 @ 08:00 GMT (Live) | 5/3 @ 03:00 GMT (Live) | 5/3 @ 05:30 GMT (Live) | 6/3@ 03:00 GMT (Live) | 6/3 @ 05:30 GMT (Live) |
| OTLSM - Boats & Cruises | | | | | | |
| Worldwide (excl. Aust) | 3/3 @ 08:00 GMT (Live) | 4/3 @ 08:00 GMT (Live) | 5/3 @ 03:00 GMT (Live) | 5/3 @ 05:30 GMT (Live) | 6/3 @ 03:00 GMT (Live) | 6/3 @ 05:30 GMT (Live) |
| TVNZ | | | | | | |
| New Zealand | 3/3 @ 21:00 NZDT (Live) | 4/3 @ 21:00 NZDT (Live) | - | 5/3 @ 18:30 NZDT (Live) | - | 6/3 @ 18:30 NZDT (Live) |
| WATCHAFL.AFL.COM.AU | | | | | | |
| Worldwide (excl. Aust) | 3/3 @ 08:10 GMT (Live) | 4/3 @ 08:10 GMT (Live) | 5/3 @ 03:05 GMT (Live) | 5/3 @ 05:40 GMT (Live) | 6/3@ 03:05 GMT (Live) | 6/3@ 05:40 GMT (Live) |