Tough Time Of Year For International Players
Thursday, September 29 2016 @ 02:44 pm ACST
Contributed by: Wesley Hull
Views: 2,034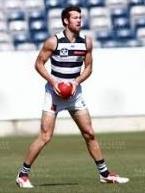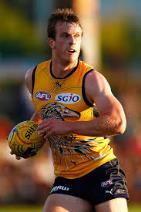 The AFL Grand Final is now just a couple of days away. It is the pinnacle of the season and the place of the Holy Grail. But just the other side of that great day comes the real "silly season" as clubs finalise playing lists and adjust their player strategies hoping for the chance to recruit the players that will take them further.
But to recruit also means to delist and clubs are now gnawing away at their lists, making decisions on who goes and who stays. Players near the end of careers, or restricted by injuries, are usually first to go – but so are project players, and many international selections fall into that category.
Photos: Padraig Lucey, Geelong (ARFLI website) and Paddy Brophy, West Coast Eagles (West Coast FC website)
Geelong pounced on Irishman Padraig Lucey after he had impressed for Ireland's national team at the 2014 International Cup, then put himself forward further by reaching the later stages of the reality TV show "The Recruit". Whilst Lucey was showing pleasing progress for the Cats in the second half of the season, his career came to an end after 33 games for the Geelong VFL side. After Geelong's dismal exit from this year's finals series, Lucey found himself swept out with the new broom Geelong is using to revamp their list for next year and beyond.
Fremantle recruited Irish youngster Sean Hurley for the 2015 season hoping the 196cm, athletic product from County Kildare would live up to his promise as one of the most exciting Irish prospects around. But injury hit Hurley hard and restricted him to just 19 league and reserve grade games for Peel Thunder, Fremantle's WAFL feeder club. Only three of those games were in 2016 with hip surgery decimating his season and leading to his delisting at the Dockers.
Hawthorn had been building an impressive array of international players with Shem-Kalvin Tatupu and Kurt Heatherley coming from New Zealand as well as Conor Glass from Ireland. But during the season, Shem Tatupu fell out of love with the game and left the club, hoping to re-focus on Rugby League or Rugby Union opportunities. He managed to play 22 games at VFL and VFL Developmental League level during his time with the Hawks.
Generally speaking, Category B rookies are safe from culling when clubs want to revamp lists. They do not impact on the primary and rookie lists (set at 44 players) for clubs. Each club can have up to three category B rookies above and beyond their main list. But if a player has struggled to really nail down his opportunities, clubs will act in the hope that they can again trawl through other international options and find another better or more developed option.
At Essendon, Conor Mckenna looks set to continue his rapid growth. West Coast have already cut eight players and may stay at that number, suggesting that Irishman Paddy Brophy can add another year to his development. Colin O'Riordin has received many good reviews at the Sydney Swans, indicating that the young Irishman from County Tipperary will get another season.
St Kilda seem keen to keep American, Jason Holmes, as a solid ruck backup, whilst Carlton have just offered Irishman Zach Tuohy a new three year contract. But neither the Blues nor Saints have made big list changes to date, meaning no player other than Tuohy is secure. Carlton is sure to have a closer look at Irish rookies Ciaran Byrne and Ciaran Sheehan and American giant Matt Korchek as they review what went wrong in season 2016 with only seven wins for the season.
Mason Cox at Collingwood is now something of a Brownlow Medal hero and is likely safe for another season at least. Pearce Hanley may or may not remain at Brisbane, but younger brother Cian is on thin ice after injury and limited opportunities.
But whilst many things in the game are sacred cows, a position on a list isn't one of them. This time of year will see players recruited, retired, traded, delisted, promoted and bewildered as clubs turn lists upside down. We hope that no more internationals are cut. But if they are, let's hope a whole new group of players from international origins is waiting to take their place.