Tahs' Resurrection Continues – NTFL
Monday, October 31 2016 @ 02:41 pm ACDT
Contributed by: Wesley Hull
Views: 1,501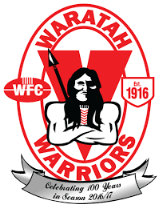 Whilst the Saints and Tigers had big wins on the weekend, and Crocs continued to build their season, it was the Waratah team that had tongues wagging as they won their third match from four starts and made last year's horror season a distant memory.
The weekend's first match saw St Mary's dish out a lesson in football desperation and tactics when they hammered the Tiwi Bombers by 103 points. The contest was effectively done by half time with the Saints holding a 10 goal lead. Despite kicking the first couple of goals in the final quarter, Tiwi just couldn't get back into the game – the Saints pressure causing turnovers throughout the game and leading to continual scoring options.
Final Score: St Mary's 26 14 170 d Tiwi Bombers 9 13 67
Waratah and Palmerston played a tight tussle with less than two goals separating the sides for most of the match. Palmerston saw an opportunity to get their season back on track after back to back losses, whilst Waratah were keen to keep their impressive start to the season rolling. In the end, Waratah found that little extra to pull away when it mattered and record a relatively comfortable 23 point win with the only two goals of the final quarter.
Final Score: Waratah 11 12 78 d Palmerston 8 7 55
Southern Districts Crocs did what they had to do to hold of the Darwin Buffaloes. Always seemingly in control, yet never looking likely to run away with the game either, the Crocs were good enough to control play enough for a 33 point win. It keeps the Crocs in a healthy position in second place on the ladder, just a game and some percentage behind the Tigers. For the Buffaloes, a team which promised so much last season, they remain winless and in serious danger of a season more about avoiding the cellar that fighting for finals.
Final Score: Southern Districts 19 10 124 d Darwin Buffaloes 14 7 91
The match of the round, on paper beforehand, appeared to be the rising Tigers up against the consistent Wanderers. It was the battle for top spot with the winner being the only undefeated team. After a reasonably evenly contested first quarter, the Tigers unleashed an eight goal to two second quarter to break the game open. They finished the game keeping Wanderers scoreless in the last quarter, which in itself is a warning signal. Nightcliff have now sent a message that the improvement last year was the start and the sky is now the limit.
Final Score: Nightcliff 23 17 155 d Wanderers 7 8 50
Next weekend's games will see the Buffaloes take on the rampant Tigers, the Bombers hosting the Crocs, Waratah clash with the Saints and the Magpies meeting Wanderers.