Sunday, June 13 2021 @ 12:03 pm ACST
Contributed by: Wesley Hull
Views: 5,805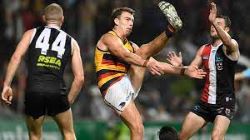 Make no mistake. For Cairns to remain a viable AFL destination it needed a catalyst match to build a future on. It came last night when their 2021 AFL premiership match saw St Kilda hosting the Adelaide Crows. Whilst skill level was questionable at times, the excitement of a grandstand finish made up for that – setting Cairns alight.
It is already well enough documented that Cairns lost its annual premiership match after their Round 1 fixture in 2018 was almost washed away. Southern rival, Townsville, was handed the 2019 match and Cairns had to pray for miracles to get their match back. It came in the form, ironically, of COVID-19 when the AFL was forced to relocate four premiership fixtures to a new hub and Cairns was ready, eager and determined to grab opportunity when it knocked.
(Image Credit: The Age)