2016 AFL Japan season concludes - the winners.


In slightly late news, the Tokyo Goannas wrapped up the 2016 AFL Japan season with a 40 point win over the Senshu Powers on Sunday November 27, held under lights at the Yokohama Country & Athletic Club.
Across the weekend just gone the season was wrapped up with the 2016 AFL Japan Awards night including the highlight of the evening - the naming of the 2016 'Peter Wilson Medalist'.
Looking ahead AFL Japan is setting sights on Melbourne 2017 and the International Cup in August next year. AFL Japan are taking registrations of interest and have set a December winter training schedule with more news to come with respect to January and February. The build up begins.
2016 AFL Japan Awards - the winners Premiership team: Tokyo Goannas Leading goalkicker: Shoki MUKODAKA (POW) Rsing star: Yudai YAMAJI (MAG) Best umpire: Ryosuke SATO (POS) Person of distinguished service: Brett QUALTROUGH (POS) Team of distinguished service: Senshu Powers Peter Wilson Medalist: Sam GIRARDELLO (GOA), Shoki MUKODAKA (POW) Dream Team: [FF] Yoshiharu SASAKI (POW) [HF] Dan LAST (GOA), Shoki MUKODAKA (POW) [R] Michito SAKAKI (LIO) [Ruck] Sam GHIRARDELLO (GOA) [RR] Yusei HASEGAWA (LIO) [HB] Tsuyoshi KASE (HAW), Hisayoshi OURA (SUN) [FB] Dean DOWEY (LIO) Interchange: [HF] Yudai YAMAJI (MAG) [R] Junpei ITO (POW) [HB] Kohei KAGEYAMA (SUN) Key: HAW: Eastern Hawks; MAG: Kmoazawa Magpies; POS: Shonan Poseidons; LIO: R246 Lions; POW: Senshu Powers; GOA: Tokyo Goannas; SUN: Tokyo Bay Suns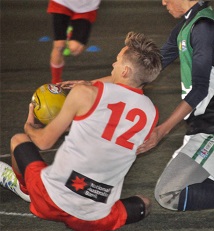 2016 AFL Japan Grand Final result
| Qtr | Goannas | Powers |
| --- | --- | --- |
| 1 | 4.2.(26) | 1.2.(8) |
| 2 | 7.7.(49) | 3.5.(23) |
| 3 | 10.14.(74) | 4.7.(31) |
| 4 | 11.21.(87) | 6.11.(47) |
The Goannas had won their way to the decider with a comfortable 50 pt semi final win 17.17.(119) over the R246 Lions 10.9.(69), while the Powers had to fight to the end for a 7 pt win 10.16.(76) over the Tokyo Bay Suns 10.9.(69).
In their only previous meeting this year back in round 3 (Late June) - the Goannas had a tough time, getting home by 9 points, 9.15.(69) over the Powers 8.12.(60). Overall the Goannas hold sway comfortably head to head, however, on the basis of this close result and the Goannas finishing top, clear of the Powers only by percentage - the stage was set for a competitive decider.
Victorious Goannas: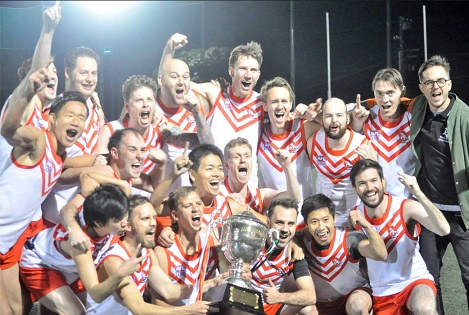 Grand finals Senshu Powers