FOX SPORTS now drive the Watch AFL app
Wednesday, February 08 2017 @ 07:35 am ACDT
Contributed by: Troy Thompson
Views: 1,963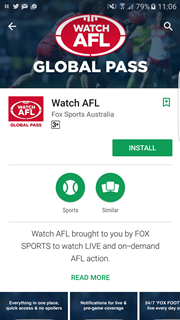 We did find the new Watch AFL app last week in our desperation to help viewers around the world find a way to watch AFLW matches. There was no release to the public and the Watchafl.com.au site was still down as they tried to get everything ready to go before Friday's AFLW debut. We believe we were the first to download it after some detective work and shared it on our social media channels on Thursday.
The app looks like it will be a much improved service for most viewers outside Australia that will use it through the free AFLW and JLT pre-season series and into the paid regular AFL season. The cost of subscription has been reported to have increased significantly in some markets. We have also been told that a number of AFL clubs offer international memberships that include subscription to the service that may cost less for the whole membership than directly subscribing to the Watch AFL service.
As well as live streaming the app will give access to full replays and a number of programs from Fox Footy to viewers outside Australia/NZ.
The full release from Fox Sports follows:
FOX SPORTS AND AFL TAKE THE GAME TO FANS AROUND THE WORLD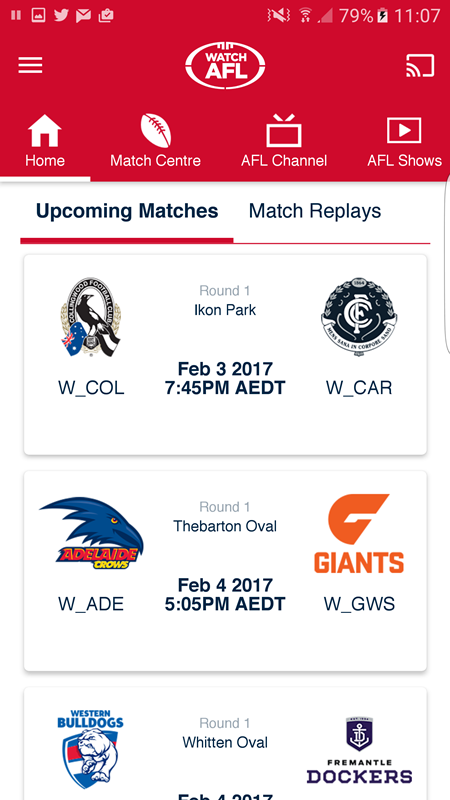 FOX SPORTS PARTNERS WITH THE AFL TO POWER 'WATCH AFL' GLOBAL PASS IN 2017
FREE TRIAL FOR FANS WHO SIGN UP BEFORE ROUND 1 OF THE AFL PREMIERSHIP SEASON
NOW GLOBAL FANS WILL NEVER MISS THEIR TEAM IN ACTION
FOX SPORTS Australia, together with the AFL, announce a new partnership to bring international AFL fans and Aussies living or travelling overseas, every match of AFL in 2017, live and on demand via Watch AFL™.
Watch AFL™ is a ground-breaking streaming service, built on a high-tech new platform optimising the fan experience. With every AFL game live, plus all of FOX SPORTS' favourite AFL entertainment shows, FOX SPORTS and News Corp will deliver the joy of the game to fans around the world, boosting the reach and taking AFL to a whole new audience. FOX SPORTS CEO Patrick Delany said: "We know how passionate AFL fans are about their footy. They live and breathe the sport. That's why we will ensure AFL fans living abroad, or travelling overseas, can watch their team, every week, along with FOX SPORTS' award-winning AFL shows and the most loved commentary team in the business."
"We also recognise the growing number of AFL fans around the world. The innovative new Watch AFL service will deliver AFL to more markets, across more platforms reaching more fans than ever before."
Robert Thomson, Chief Executive of News Corp said: "This is a moment to cherish for the proselytising of a great sport globally and for distant football tragics. I look forward to watching Essendon's renaissance in the coming season wherever I happen to be in the world."
AFL Chief Executive Officer Gillon McLachlan said:
"The AFL and our partners FOX SPORTS are thrilled that all games and Fox Footy shows will be available to our fans who live or are travelling overseas.