Opinion: Now or never for AFLW call on international women - part one
Wednesday, September 20 2017 @ 01:10 am ACST
Contributed by: Brett Northey
Views: 3,896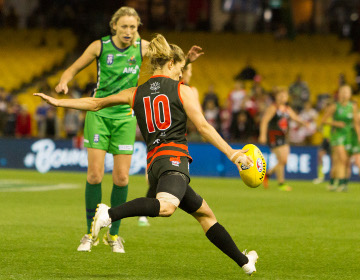 Uncharacteristically for myself I'll get straight to the point.  The AFL has a once in a generation opportunity to significantly boost world footy whilst at the same time add depth and colour to the AFLW, with a not unreasonable chance of even greater benefits down the track in terms of international representation for Australia's female footballers, all for virtually no cost.
The simple change - allow and encourage AFLW sides to add international rookies with no penalty to the number of players already on their lists.
The possible outcome - a pool of internationals ready to: boost the standard and colour of the AFLW, to promote the sport back home, to prove a semi-pro pathway exists, to one day provide opposition that will allow Australian women the chance to pull on an Australian jumper to play a true Aussie Rules international (a potentially alluring but difficult to quantify enhancement to AFLW).
The signs are that this opportunity will not be taken.
Below the case for the small but significant change is argued, including here and in part two we show the support by people from across the football spectrum, from the GWS Giants to a current AFLW player to an international captain and others involved in the game outside Australia.
With all due respect to the powers that be, this is a rallying cry to those that love the game, whether it involve male or female players.
The AFLW
In early 2017 Australian footy fans were captivated by the inaugural AFLW season - a semi-professional national women's league run by the AFL.  Ironically in the context of this story the first time many will have heard of a national women's league was here on worldfootynews.com when Tobietta Rhyman broke the news in The Future of Women's Football in Australia.  Tobie herself was a British female player passionate about the game but was a trailblazer for female footy in England a few years too early to play for the Great Britain Swans at the International Cup.  A shout out to Tobie.
The 2017 AFLW season was a classic story of overnight success that was in fact years in the making. It was also a perfect example that the AFL can, when it puts its resources into action (both money but just as importantly its talented and passionate staff) create amazing outcomes. Female players that were almost unknown outside the confines of those that played or supported the local state leagues suddenly became household names across Australia. Clever marketing and use of the powerful AFL brand saw the coming league promoted at a personal level as prospective fans got to know the players in interviews and commercials, building their star power.  There are those that have said that the AFL cannot successfully promote a world footy event such as the International Cup because they only know how to deal in the rarefied air of big money and big stars; the AFLW, built from the ground up, has shown that is not true, they certainly can create a buzz from a low profile starting point.
International Opportunities Lost
But although there has been passion and dedication from some within AFL House for the International Cup over the years, there has never been a coordinated, full buy in to dramatically accelerate the game around the world.  I will not document all the various short-lived misadventures such as exhibition games not supported with any local club development, or bursts of investment suddenly cut short and attention turned elsewhere.  AFL CEO Gillon McLaughlan himself said in 2015 that their policies had been confused and "I think our international strategy has been disjointed and I don't think we've had a clear... there's been piecemeal approach to different markets, so I think it's been disjointed at the AFL and we haven't been coordinated like we need to be with the clubs".  There was even a bold (but possiby token) declaration by the former New Zealand Prime Minister (in office at the time) that the AFL should give his country a club - we may never know whether that was actively explored.
So world footy continues to grow but for the impatient amongst us it is far too slow.  For all this site's passion for international footy, the reality is that the gap between the men playing at IC17 and at AFL level is enormous, even at the top of Division 1.  The AFL filters tens of thousands of Australian boys and men down to just the elite cream of the crop, in the end pushing the very best of them through elite professional development.  To have an adult or even late teen come to the game and make it to Australia and have a successful professional career would be a freak event, with really the successes so far being only a few Irish players coming from the similar Gaelic football and some enormous North Americans crossing over to specifically fill ruckman roles.  The idea that another nation might rise to be able to offer a competitive on-field challenge to Australia in men's Aussie Rules, or even that a world team could do so, seems as far away as ever.
But then there are the women.
A true sporting revolution in Australia
The game is exploding in Australia, with hundreds of new women's and girls' teams formed just this year alone.  A wave of elite players will hit the AFLW in 4 or 5 years, perhaps less.  The explosion was already profound prior to 2017 but the impact of the AFLW has magnified it immensely.  Consider South Australia, rightly not considered a powerhouse in women's football.  Starting in 1991 with just 4 senior teams, this barely budged for years, before suddenly accelerating to 19 in 2016 then rocketing to 36 in 2017.  In better established regions such as Victoria the growth can't be as large in percentage terms but in sheer numbers is staggering.
... but yet to be fully realised at the top level
Right now we are in a narrow window in which the depth across the eight AFLW sides (probably ten or twelve in 2019) is somewhat limited.  Elite athletes from other sports were able to hold their own with just a few month's pre-season.  A player like Erin Philips was able to win the MVP despite not playing the game for more than a decade (though it must be noted she is an exceptional athlete who was playing in the WNBA and had grown up playing football).  The season was tremendous but a critical eye could see that the true talent dropped away beyond the top 3 or 4 players on each list.
Mind the gap
Meanwhile international female footy is improving rapidly.  The gap in general between them and the elite Australian women is still fairly large.  But the gap between the best internationals and the bottom half of AFLW lists is not so large.  In fact I would suggest that there are a few international women who may not be quite as athletic but would be superior footballers to those AFLW players in question.  None of this is to denigrate anyone - it is an affirmation of some of the quality we saw at IC17. This is supported by industry insiders as discussed later.
So let's assume we all want international footy to improve and the women playing it to be motivated and aim high.  And assume that the AFL would like more AFLW depth to improve the standard.  1 + 1 = 2
Imagine the boost to international clubs to show existing and prospective players a genuine and regular pathway to a semi-pro career.  And for those focussed on the men, any boost to international clubs and player numbers can only boost the growth for both genders.  Indeed the acceleration in the women's game may be the best thing that has ever happened to the men's game internationally.
But where is that pathway?  Ireland's Laura Corrigan-Duryea made it, but had a strong Gaelic football background and then moved to Australia and spent years in the VWFL.  
It is true that some international women could have made it to the inaugural AFLW season - the AFL clubs were not blind to their talent.  Devastatingly Canadian Kendra Heil did her knee after joining Collingwood, and countrywoman Aimee Legault was looking on track until a knee injury and visa issues curtailed her chances.
A fair go
But why make it such a huge punt for AFLW teams to have to set aside a position for international talent that may not have been tested yet in Australia football such as the VFLW?  The men's teams have an International Rookie spot available that is virtually a free hit for AFL clubs to speculate on overseas talent.  Do women not deserve the same opportunity?  Maybe this will be added in a few years time when it is almost too late and the gap has grown and such spots will rarely be filled anyway.
All these thoughts are not new or unique.  I've been dwelling on them for a long time and so have others.  Our own Troy Thompson was advocating for the women's International Cup to be played in 2016 not 2017 so that the talent would be on show prior to the AFLW starting.  The website Girls Play Footy recently published a piece by Peter Holden in which he pushed much the same cause - AFL must rectify the non-existence of international AFLW pathways.  Peter also cited former USAFL President Denis Ryan who made the point that "We don't want to create a massive gap like there is between us with the men, we want to keep pace with the women, so really important that we don't get left too far behind and there's too bigger gap to make up".
Now Peter went further in suggested a sizeable scholarship for international players.  As much as I'd love to see that the reality is that the AFL are shy when it comes to spending money on international footy, with the possible exception of AFL Academy tours and the International Cup (they don't fund the teams but putting on the event is still a significant cost).  I'm not pushing for that kind of money at this point, I'd be delighted to simply see the AFL go for the bargain basement option - make 1 or 2 international rookie spots available for each team with no requirement for payment or no more than the minimum AFLW payment.  That may seem unfair but, off the record, I have spoken with the AFL and its clear there's no appetite to introduce such a list and they are definitely trying to limit AFLW costs as it is still in its infancy, so any chance for international rookie spots to occur must be at no cost.
But we know there are plenty of talented women who would put their careers on hold and jump at the chance to be immersed in a professional football environment for 6 months.  If they don't get a game they will still have learnt so much.  If they are good enough to make it then they can transition to the primary list the next year.
Pulling on an Australian jumper
And there's another tantalising possibility.  Sadly there is no foreseeable prospect of Australia's best men ever pulling on an Aussie jumper to play against another country or even world side, other than in the hybrid International Rules or maybe, just maybe, against some Irish players drawn from the AFL and playing reduced numbers AFLX (coming soon).  But for the women, if the game is nurtured internationally now, there's a chance it can be big enough to build a competitive opposition.  Indeed for many elite sportswomen overseas the challenges of finding a professional paying code to play are similar to Australia, so why can't it be that AFLW initially and the code in general longer term, provide that avenue?  Great Britain Swans GB Team Manager and GB Bulldogs player Jason Hill articulated it well in Women's game the key to taking footy global. 
It should also be noted that more than one AFLW player has mentioned that they played another sport prior to AFLW not just because of the lack of a professional league but because they wanted to represent Australia.  If the AFL want the AFLW to become the sport of choice for Australia's elite women they need to address this issue and help grow the solution.
Action required
The gap between AFLW and international women is only going to get bigger, if the game is going to properly support the international dimension it must do so now.  Don't wait to 2019 or 2020, that's an eternity given the trajectory of the sport for female footballers.  With the AFLW draft looming in late October the clubs will be finalising their lists.  It would be such a waste if they couldn't at least offer one speculative rookie spot to international players without having to overlook an Aussie in exchange.
How strong is the international footy community?  How strong is the women's footy community?  If we combine our enthusiasm, passion and advocacy skills, can we make international rookie spots a reality for season 2018?  It's not too late, hit social media, hit your contacts, somehow, let's make this happen. It may not revolutionise the game, but it could give international footy the hard earned free kick it needs and one day it may just repay Australian footy many times over.
In part two we'll publish some of the voices supporting this push.