Opinion: Now or never for AFLW call on international women - part two
Friday, October 06 2017 @ 03:19 pm ACDT
Contributed by: Brett Northey
Views: 3,914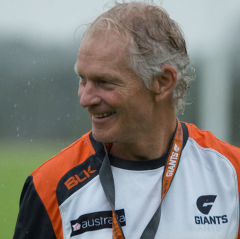 In part one of this feature the case was argued that for the good of both the AFLW and international footy (both women's and men's) the AFL needs to allow and encourage international rookie spots on AFLW lists starting now, ready for AFLW 2018.
The benefits include a pool of internationals ready to: boost the standard and colour of the AFLW, to promote the sport back home, to demonstrate a semi-pro pathway exists, and to one day provide opposition that will allow Australian women the chance to pull on an Australian jumper to play a true Aussie Rules international (a potentially alluring but difficult to quantify enhancement to AFLW).
All this for virtually no cost as the spots should be in addition to the regular lists, they don't even need to include payments (better if they do but initially I think most will agree we'll take what we can get). These women will put their lives on hold for a precious opportunity and will repay the game many times over in return.  Just allow the free hit list positions and, like in the AFL men's competition, allow rookie elevation to replace an injured player (there were plenty last season) if the international is deemed good enough.  And if she is good enough then presumably she'll be given a regular list spot the following year.
I've put out the call myself, I've shown the backing for this or similar ideas from people in the international footy community from our own Troy Thompson to Peter Holden on Girls Play Footy to former USAFL President Denis Ryan and Great Britain Swans Team Manager and GB Bulldogs player Jason Hill.
Now let's hear from AFL club the GWS Giants, from an international team captain, from a current AFLW player very familiar with international footy, and a player who could've benefited from such a position during 2017.
First to the Giants.  When approached about this the Giants CEO David Matthews (formerly head of AFL Game Development) agreed in principle with the concept, and put us on to their newly announced AFLW Head Coach, Alan McConnell (pictured above), who is also the Giants' Director of Coaching across the club's men's and women's teams.  McConnell has immense experience in the industry, and his credentials include playing for Footscray, coaching Fitzroy, was an Assistant Coach at Geelong and the AIS-AFL Academy's High Performance Coach.
McConnell was right behind the push to give international rookies a chance.
"We do support the push for international rookies as we strongly believe the opportunity to transition to the AFLW competition is real. With the competition set to expand in 2019 and 2020, broadening the talent pool is critical to the success of AFLW and that's where I think looking internationally could become very important".
The best way to support the players would be up for discussion, with the Giants' coach suggesting:
"We do agree that it would need to be on a contractual basis that supports the development of talent and that's likely a full-time or year-round commitment".
It's also encouraging to know that someone so well embedded in the system is confident that some players can make the leap.
"We saw with a player like Ellie Brush (W League soccer star) last season that there is scope for athletes to transition to AFL very quickly with the right training and environment."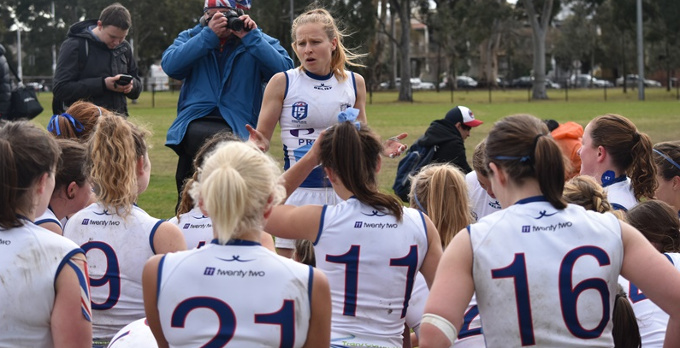 Not surprisingly the Great Britain Swans' captain, Laura Turner (pictured above addressing her team at IC17), was also fully supportive and felt the gap between her side's best players and the AFLW was not that large and the prospect of rookie spots would be a great tool for growing the game.
"In Great Britain the women's game has exploded in the last 18 months, participation has dramatically increased and we have established ourselves on the world stage finishing third in IC17. The gap between some of our most talented British players and the AFLW is currently not that big. Our challenge now is to go back home and promote the game to keep the momentum going. To be able to entice new players and motivate current talent with the very real possibility of making a living from playing the sport would undoubtedly fuel the progression of the sport overseas.

"With the introduction of international rookie places on each team the skills and knowledge gained by those players would be huge. Not only from a playing perspective but the possibility of completing high level coaching courses (something not currently available in Great Britain) and experiencing strategic game development would help those players who return to their native countries to invest into the development of the game overseas.

"There is a window of opportunity with the AFLW. If the AFL is really serious about making Australian Football a global sport then this is an opportunity not to be missed".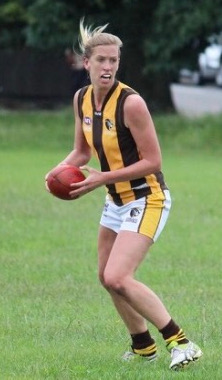 And what about players within the AFLW already, do they see a problem with such a move?  We asked the Western Bulldogs' Lauren Spark (pictured left in action for the Wimbledon Hawks) her thoughts.  Lauren played 7 of a possible 8 games in the inaugural AFLW season and was in the top 10 players for average marks across the season, going on to represent Victoria in their big State of Origin win over the Allies (rest of Australia).  She is in a special position to comment given that although she is an Australian she was playing footy in England when drafted.  In fact Lauren helped set up a junior club in London and worked with the Great Britain Swans at IC17.  The Western Bulldogs tall defender/ruck felt there were international women not far away from AFLW level. 
"After spending two years within the London AFL competition, and being involved with the European Championships and international Cup, I believe there are quite a number of girls from various countries that would be up to playing AFLW after a full season of training and knowledge development. They have proven their passion for the game and have grown their skill development off their own backs. The fact they haven't grown up with the game and have to find their own resources to learn, shows their commitment to the game".
Lauren supports the notion that one rookie spot at each of the eight clubs could be filled.
"I believe so. Some girls have already taken it upon themselves to move to Australia to pursue their dreams of AFLW, hopefully we see a lot more willing to move across and take up the sport full time in the coming years.
"[Without international rookie spots] I think at this stage, it would require a large commitment from the player to be noticed internationally. As the popularity of AFLW grows, we're more likely to see more girls travelling from overseas to be a part of our great game which is really exciting. Seeing how well AFLW has been received in its first year is really promising".
The one area Lauren wasn't completely on the same page was Australian representation.  Although she has represented Australia in beach volleyball, for Lauren the goal as an aspiring young football player was to play at national level.
"When choosing football as a junior, the ultimate goal is to play at AFL level in Australia. I think any athlete would love to represent their country, but to be a part of the national league was my ultimate goal. Playing for Victoria in the AFLW State of Origin earlier this year was an incredible honour. I think there's definitely potential for Australian Rules Football to thrive internationally, however if your dreams are to represent your country at a Commonwealth or Olympic Games, other sports may be a better pathway".

But would an international player drop everything and move to Australia just for the chance to be on an AFLW list?  Lauren Spark suggested yes, and in fact several players have already moved just to increase their chances.  So finally to Kim Hemenway (pictured right) from the United States club New York Magpies, who many thought should be on an AFLW list already, but perhaps missed her chance when the Sydney Swans decided not to compete for an initial AFLW spot.
"If I had a chance to come over as a rookie and not get paid, I'd jump at that chance in a heartbeat. I would try to make it work. There's nothing wrong with proving your worth, it's just a matter of having the chance to do so."
So there you have it, support from every angle.  Come on AFL, do the right thing, do the sensible thing, do what is best for the game in the long term.  Will you give these women a chance?