Get to know Docker Dana Hooker
Wednesday, January 10 2018 @ 02:00 pm ACDT
Contributed by: Tash Gunawardana
Views: 2,525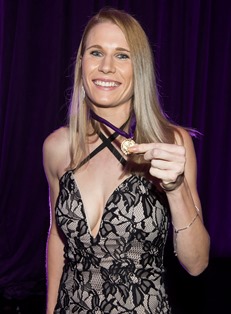 Tash Gunawardana recently interviewed Fremantle Dockers midfielder Dana Hooker ahead of the upcoming AFLW season. Hooker was the inaugural best and fairest winner for the Fremantle Dockers AFLW side in 2017.
When you were a kid, what other sports did you play other than footy?
I grew up playing a few different sports. I did athletics and played basketball and softball all the way into high school. In early high school I started playing football and then that became my sport of choice when I was about 16.
What did it feel like to be the first female best and fairest champion at the Fremantle Dockers?
Winning the inaugural fairest and best was certainly a great achievement that I am proud of. The night itself was something I will not ever forget but overall, to have been apart of this inaugural team at Freo and started building the foundations for the women's side, that's pretty special.
(Image left courtesy Fremantle FC)
What was it like to play for the Allies in the inaugural AFLW State of Origin?
Playing for the Allies was a great experience and I enjoyed getting to know the girls from other clubs a bit better. Being exposed to other coaches and support staff from within the women's league has been great for my personal growth.
Do you believe the AFLW State of Origin was successful for the AFL or not?
The way the State of Origin game played out was not obviously ideal and it is a credit to the Victorian girls, who many of them have played together for a number of years. I think it shows the value in knowing and understanding your teammates and how that can impact in a team's performance. But any exposure is great for the growth of the game.
Have you played any other footy position other than in the midfield?
I have played predominantly in the midfield as long as I have played footy.
But when we go back to our state league team in the off season, I will play the occasional game up forward to further develop that area of my game.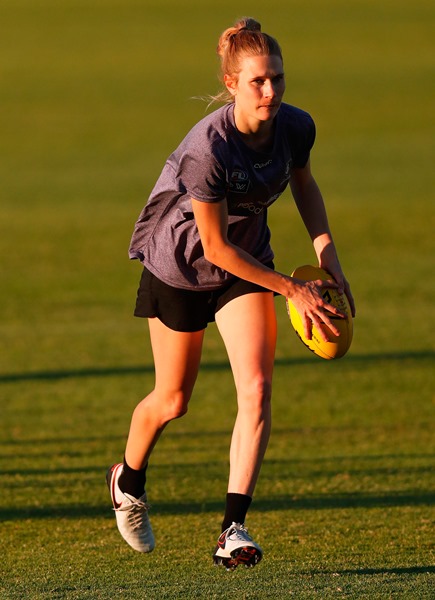 As you are one of the joint vice captains of the Fremantle Dockers women's team, what is it like to be part of the leadership group?
Being part of the leadership group is a great role to have and being able to assist your team mates to better themselves is rewarding. It is important to have a group set the standards and behaviours for the team and lead by example.
In your opinion, what did the Fremantle AFLW team learn from the inaugural season of the AFLW?
There was a lot to learn from the inaugural season – starting from the whole team's preparation prior to the season, building on all the skills and areas required to be an elite athlete and building strong relationships within the team. Having had the experience of some hardships last season, we have all grown as individuals and as a team and it will hold us in good stead moving forward.
Where do you feel the Fremantle AFLW team can finish on the ladder next season?
It is hard to know where you will finish on the ladder, particularly being such a new competition. We of course aim to finish top of the ladder, we certainly do not play to come second. But it is most important to us to show growth and resilience from last season and play each game competitively and to the best standard we can.
What is your pre game ritual?
My pre game ritual is pretty casual. It changes depending on what time we play and if we are at home or interstate, but I try and take some time prior to the game to review my roles and expectations for the game. I also listen to some music whilst going through the preparations and try and keep a bit of a lid on the emotional side of it until close to running out onto the ground.
What do you do in the off season?
We do not tend to get a clear off season from football as we go back to play in our state league competition after the AFLW. But in the spare time I get, I enjoy spending quality time with my family and friends. I love water sports also and have previously been into wakeboarding and now giving kite surfing a bit of a go.
(Image right courtesy AFL)