Triumph over adversity – The spirit of our game.
Monday, February 10 2014 @ 03:34 pm ACDT
Contributed by: Wesley Hull
Views: 7,024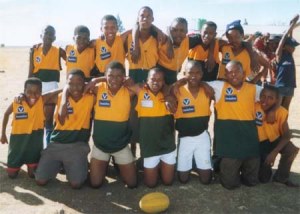 Sometimes we can look at a sport or activity we enjoy and wonder why it doesn't just automatically catch on and happen elsewhere. In the case of Australian Rules football, many of us see the glam and glitter of the game on television, or take in the atmosphere of a game by being there in the stands and think it's all too easy.
But the reality is that it takes incredible amounts of money, time, people, resources and drive to make the game grow, whether that be at the MCG, the local club, or in remote outposts of the game in places like South Africa. This story looks at an account of how difficult it has been to fly the Australian Rules flag in a village called Bodibe.
It is almost ten years since Victorian club, the Hampton Rovers, donated a set of their footy jumpers to the Bodibe club. The following is an extract of an account of that event, taken from the Hampton Rovers website:
Rovers making a name in South Africa
There are many local bayside kids over the years that have played their first game of footy in a Rovers jumper. These days, there are kids in the unlikely town of Bodibe in South Africa also experiencing their first taste of Australian Football wearing the Green and Gold. This is thanks to a recent donation of Rovers jumpers to the AFL's Australian Football program in South Africa [now AFL Footywild].
The jumpers supplied by Bill Jowett have made their way to the township of Bodibe, 300 km west of Johannesburg in South Africa's North West Province. Bodibe and the surrounding towns of Itsoseng and Verdwaal each have an under 13, and an under 16 team, and enough senior players to make one combined side.
Most of the teams participating in AFL South Africa's leagues and carnivals rely on donations of footy uniforms and other equipment. Many players play in bare feet, some in their school uniforms, and all without mouthguards. Most fields have no grass, and the players sometimes have to help in removing the larger rocks and stones before the games commence. Given all that, one can imagine the value these players would place on their own set of "proper" Aussie Rules uniforms. AFL South Africa [now AFL Footywild] and the players themselves are very thankful to the Rovers for their donation.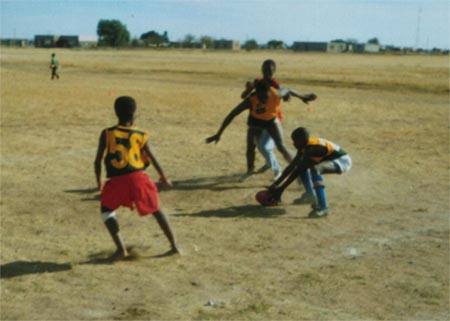 Since the time of this article, AFL Footywild, through their North-West Province offices in Potchefstroom, and volunteers on the ground across the province, have done all in their power to keep growing the game. Sometimes, however, the best laid plans can fall away.
Joubert Motone was one of the first Bodibe players to pull on one of the donated Hampton Rovers jumpers, and since then has watched the rise and fall of the game. His account presents a cautionary tale of what can stand in the way of the progress of the game, and as such is a useful planning tool for clubs anywhere to learn from. I recently interviewed Joubert about his experiences in developing the game in Bodibe.
"Bodibe is a village situated five kilometres from our township Itsoseng and has a large population. It is divided into four sections, namely: Rakgole, Phatsima, Shaleng and Kgomola."
"It is rich with limestone but the companies that mine it do not contribute a lot to the development of the village. It has four primary schools, two middle schools and a single high school."
"The town has a vast talent when coming to sports, but due to limestone [under the ground] it is costly to build sporting parks. We as Aussie Rules players at Itsoseng managed to recruit players and females umpires and they had their own team which was able to play against us: the Itsoseng Kangaroos. However, currently there is no team due to lack of funding and facilities."
"Where is Bodibe? It's in North West Province between Mafikeng and Lichtenburg in South Africa, around 250 kilometres to the west of Johannesburg, not far from the border with neighbouring Botswana."
I asked Joubert about the decline of our game in the Itsoseng area and what were the biggest issues facing youth at that time.
"What are the biggest problems facing youth? We are living in a society [here in Bodibe] whereby sport is no longer an issue. The youngsters of today are being faced by criminal activities such as theft, burglaries, drug abuse and lack of education."
"However some of the problems stated above are being caused by [a combination of one of more of these problems, including] lack of parental care or support and the managers of different sporting codes who misuse the funds for their own interests instead of advancing the development of sports. This also affects Aussie Rules footy."
"The other issue is the lack of sports facilities and support from the provincial departments of sports. If sport was a prerequisite and priority in our townships and village schools, there would be more involvement in sports than in substance abuse. There are several sporting codes in Itsoseng, including soccer, netball, cricket, rugby, softball, volleyball, basketball, Aussie Rules and a few tennis players."
I asked Joubert how he came across the game and how long he had been involved. "In 1997 a group of Australian Navy soldiers came to South Africa, led by Matty Alsford. He (Matty) was the one who arranged the introduction of Australian football in South Africa, but specifically in the North West Province. They ran clinics at schools within disadvantaged communities, namely Ramatlabama, Montshiwa and Itsoseng.
"The first time i wore that jumper it was like I was representing South Africa."
Joubert still believes that he has a great deal to offer the game of Australian Rules football in his home town, and looks forward to the time when the game can be kick started in Itsoseng. Joubert would love nothing more than Bodibe and Itsoseng Kangaroos players out on the fields again.
"I still have fresh mind and good legs. My goal is to play again and help in coaching. Even now I am not in formal training but i can beat many. I am naturally fit and I have being busy training with the local rugby teams. I am ready to go anytime and see Aussie Rules played again."
Joubert embodies the idea of triumphing over adversity. His determination to again see the game of Australian Rules grow in his region exhibits many of the qualities that make our game great. He is also keeping alive the generosity of Hampton Rovers from a decade ago when their gift of jumpers was aimed squarely at growing the game.
My own club is currently following in the footsteps of the Hampton Rovers by gathering donations of bits and pieces (boots, balls, posts, bibs, markers) to send to Joubert in the hope it may reignite the teams in and around Itsoseng. With the continued help of AFL Footywild we may again see Joubert's wish come true. If you have anything you may wish to donate, feel free to contact me through this website.
I gratefully acknowledge the assistance of Thabiso (Joubert) Motone, Andries Mangweng and Thibello Mokati for helping me with this story.