Friday, January 28 2005 @ 10:51 am ACDT
Contributed by: Matt Morris
Views: 4,876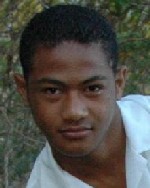 Polynesia Airlines and TAFA have today announced that young Tongan Semisi Takelo is the first recipient of a scholarship to study and play Australian Football in Australia.
The announcement was made today (January 25) at the
Polynesian Airlines
office with the Tongan Australian Football Association (TAFA) president Mr Malakai Vakasiuola present. Takelo's mother, Ms Lesieli Takelo of Fotua Ha'apai was also in attendance for the announcement.