Tuesday, July 02 2019 @ 03:06 pm ACST
Contributed by: Wesley Hull
Views: 1,964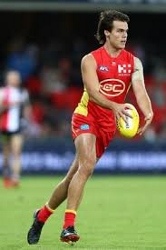 Maybe I grew up in another era. On the other hand, perhaps I just had very good coaches when I was a kid. However, in my junior footy days down in Victoria, kicking with both feet was simply expected by coaches. We were encouraged to use our stronger preferred foot to cover ground and maybe for pinpoint accuracy. Nevertheless, all of my team-mates back then could kick with both feet. 
It amazes me, then, that the following article by Callum Twomey at www.afl.com.au raises such an issue. Moreover, the fact that it unearths different types of thinking on the subject at the highest levels is a surprise to me – someone who would use the "Bradmanesque" (hitting a golf ball with a stick thousands of times to improve skills) style training by kicking either foot in the backyard to get better on my unnatural left foot.  
Dad told me that if I was ever going to be a good footballer I would have to learn that skill. The most simple premise was that the time wasted trying to manoeuvre onto my preferred foot gave the opposition time to catch me or impact my kick – the opposite foot gave me more options and a full 180 degree arc to use the ball in.