Tuesday, August 14 2018 @ 10:40 am ACST
Contributed by: Wesley Hull
Views: 2,052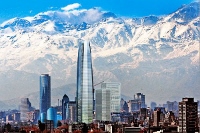 Both the Santiago Saints and Bogota Bulldogs are feverishly preparing for the biggest South American match of the year – the Andes Cup – to be played in Bogota on Saturday 25th August. The Bulldogs are current title-holders and have won the title both years since the inception of the event. However, the Saints have been getting closer and maybe this will be their year.
President of the Bogota Bulldogs, Paddy Smallwood, shared his thoughts ahead of the historic clash – the showpiece of Australian football in South America.
"[Our] season goes into recess now as the Andes Cup vs Chile takes place in two weeks. The Bulldogs squad will be massively different to previous teams, with many great players having left Colombia and many new Colombian players forcing their way into the squad."