Friday, January 11 2019 @ 08:09 pm ACDT
Contributed by: Wesley Hull
Views: 4,439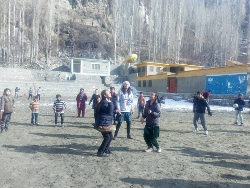 You start by heading north from Islamabad, the capital city of Pakistan, towards the border with China. Eventually you link up with the Karakorum Highway, passing through never ending vistas of amazing mountain scenery. It isn't the Himalayas, but a magical land in its own right. Then you arrive at the village of Gilgit Baltistan.
Here, Saliha Baig Jaturi is running Aussie Rules footy clinics. Not only does she face the challenges of being a woman in a Muslim country, where particular expectations on women can restrict what a woman can do, she is also selling Australia's national game to kids and older villagers who know little or nothing about the game.
The other big challenge is snow. The mountains on the Pakistan/China border zone rank amongst the highest in the world and have the cold to prove it.