Sunday, December 31 2017 @ 04:15 pm ACDT
Contributed by: Wesley Hull
Views: 2,294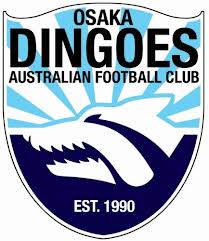 For a number of years the Osaka Dingoes in Japan were one of the mainstays of the national league in the country. For a good few years, the Dingoes were right up there with the Tokyo Goannas as the teams to beat. However, in a world of change, things didn't stay the same, and the once mighty Dingoes fell on harder times as their club and the league around them looked at changing the footy landscape – for a number of reasons.
The end result saw the Osaka Dingoes stand on the edge of a precipice and look down into the void of footy oblivion. Part of Japanese footy history and nothing more.
But that didn't happen, and Matt Gale, president of both AFL Asia and now of the Osaka Dingoes, tells the story of how close the club came to extinction and how they have found their way back. It hasn't been an easy ride, and at times has been fractious, but the end result is one of confidence and potential.