Thursday, January 12 2017 @ 06:31 pm ACDT
Contributed by: Wesley Hull
Views: 2,218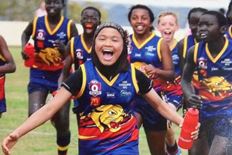 Late last year the ABC reported about a young girl in Toowoomba who was taking Australian Rules football by storm, and in the process taking apart cultural and gender stereotypes to be an amazing role model and inspiration for all young, aspiring football players. Here is the story of Zimra, as reported by Allyson Horn for the www.abc.net.au website.
Ten-year-old Afghan refugee Zimra Hussain is tearing up football fields across south-east Queensland, her hijab flying in the wind.
Zimra and her family are part of the Hazara, a group heavily persecuted in Afghanistan by the Taliban.
They arrived in Australia in 2014.
She played her first game of football less than a year ago, as a new resident of Toowoomba on the state's Darling Downs.