Wednesday, August 24 2011 @ 04:38 pm ACST
Contributed by: Brett Northey
Views: 3,087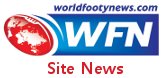 Apologies for the site disruption today. We were well aware we would exceed out monthly quota due to the growing popularity of the international footy and we requested an extension well in advance.
Unfortunately our web provider had a key person ill and of course for us the timing was most unlucky. We wish that person a speedy and full recovery as they have always provided our site with excellent service and he is a greater supporter of footy.
The good news is we should be back on track now and look forward to bringing you match reports from today's games and will be back in action live on Friday for the major finals.
One innovation you may have missed was live audio commentary from 3 matches today (the men's big semi finals and Canada vs Japan) by Troy Thompson. We'll let you know if he brings out the golden tonsils again on Friday and Saturday.