Wednesday, August 22 2007 @ 11:35 pm ACST
Contributed by: Brett Northey
Views: 4,147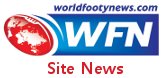 Footy Darts is a magnetic darts game that simulates the ebb and flow of an Australian Football match. WFN writer Ash has reviewed the game, and creator Dale Wilson has two free sets of the Ultimate Footy Pack to offer international clubs (containing the magnetic football darts game and a markmaster footy, package valued at AUD$50).

We think the game could be used at footy clubrooms or as a prize for an up and coming junior. Readers from clubs outside of Australia are encouraged to write (click here) and tell us about your footy club and how you think you might make use of a set. We'll select two responses and courtesy of Sports Darts send them the Ultimate Footy Pack. Read on for Ash's review.